Easy and Delicious Grilled Steak Chili
What I enjoy the most about this recipe, besides the incredible flavors, is the variety of equipment I am able to use in making this chili recipe. First off, I get to fire up my Weber Performer Grill with the Gourmet BBQ System grates, then I get to use my Camp Chef 12″ deep Dutch oven and use it inside of the Weber Performer grill. The Camp Chef 12″ deep Dutch oven fits perfectly inside the center of the Weber Gourmet BBQ System grate, making this a perfect setup for those that have limited space.
A couple of quick notes about the recipe and techniques I used:
When grilling the steaks, I used lump charcoal and standard briquettes.
The steak rub is Brazos Legends "Sizzlin' Steak Rub".
Cooking the steak to medium rare or medium would be best to help keep the steak as tender as possible.
I kept the Weber Performer Grill lid on while cooking the Grilled Steak Chili in the Dutch oven.
Keep only a few briquettes on the bottom under the Dutch oven – I had about 10 under mine.
Stir chili every 25 – 30 minutes or so to keep the chili from sticking to the bottom.
Cook time will vary depending on your conditions – Mine cooked for a little over an hour in the Dutch oven.
Grilled Steak Chili Recipe
Easy and Delicious Grilled Steak Chili Recipe
Prep time:
Cook time:
Total time: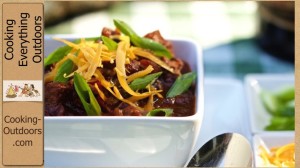 Ingredients
1½ pounds of steak (round, sirloin, etc)
Steak rub to coat
6 slices bacon, cut into 1 inch pieces
2 medium onions, diced
2 Anaheim chilies, seeds removed and diced
1 red bell pepper, seeds removed and diced
1 Jalapeno chili, seeds removed and diced
6 garlic cloves, diced
1 large can chopped tomatoes
½ tsp salt
½ tsp coarse fresh ground rainbow pepper
1 tbs cumin
1 tbs oregano
2 tbs chili powder
½ tsp cayenne pepper
2 tbs brown sugar
1 can diced green chilies
1 bottle of dark beer, room temperature
Optional - shredded cheddar cheese, sliced green onions for toppings.
Instructions
Mise en place - get all ingredients together first!
Preheat the grill for direct grilling.
Season both sides of steak.
Grill steak until medium rare or medium.
Remove steak to rest.
Add additional charcoal to grill as needed to cook chili in Dutch oven, about 20 in total.
When charcoal briquettes are ready, place ten on Dutch oven lid.
Place Dutch oven over bottom coals with lid on to preheat.
Brown bacon.
Remove excess grease.
Add onions, peppers and garlic, stir and cook for 3 - 4 minutes.
Cut steak into bite sized pieces.
Add steak pieces to chili.
Add steak juices to chili, if any remain.
Add can of chopped tomatoes.
Add dark beer, fill Dutch oven to cover chili ingredients.
Add salt and pepper.
Add herbs and spices.
Add brown sugar.
Add diced chilies.
Stir to mix well.
Cover with Dutch oven lid.
Cook until chili has thickened and the steak is tender.
Serve with cheese and sliced green onions (optional)
Stir to mix.
Equipment used on the show:
Camp Chef 12 inch deep Dutch oven – http://www.outdoorcooking.com/camp-chef-classic-deep-12-dutch-oven.html
Weber® Performer Charcoal Grill – http://amzn.to/X7iEbJ
Weber® Gourmet BBQ System Sear Grate Set – http://amzn.to/1qrUXYA