Loaded Cauliflower Casserole is steamed cauliflower combined with cream cheese, sour cream, sharp cheddar, Monterey Jack, bacon and chives.  Cauliflower has never tasted this good!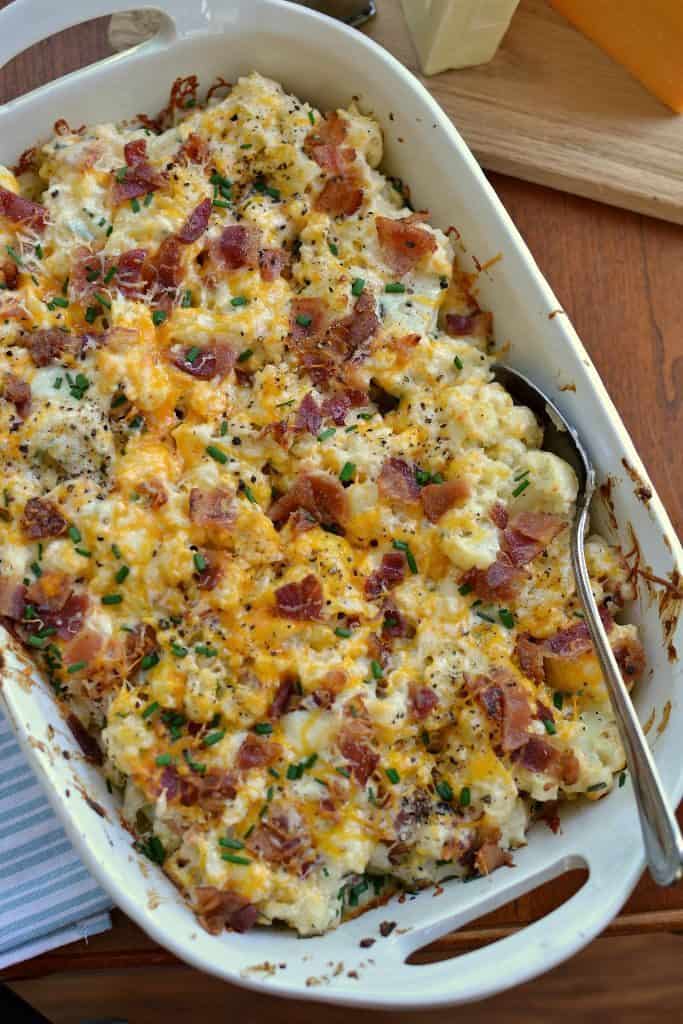 This Loaded Cauliflower Casserole is simply AMAZING.  Trying to find new ideas for the same old veggies that everyone in the family loves can be hard work.  This my friends is a real winner.  If you have not tried any of my recipes in a while you really must try this one!  Even my picky son loves this one.  Forget the loaded potato casserole and make this lower carb better tasting version with cauliflower. In a hurry?  You can steam the cauliflower ahead of time. As a matter of fact you can prepare the whole dish ahead of time, cover and store in the refrigerator and pop it in the oven twenty-five minutes before serving.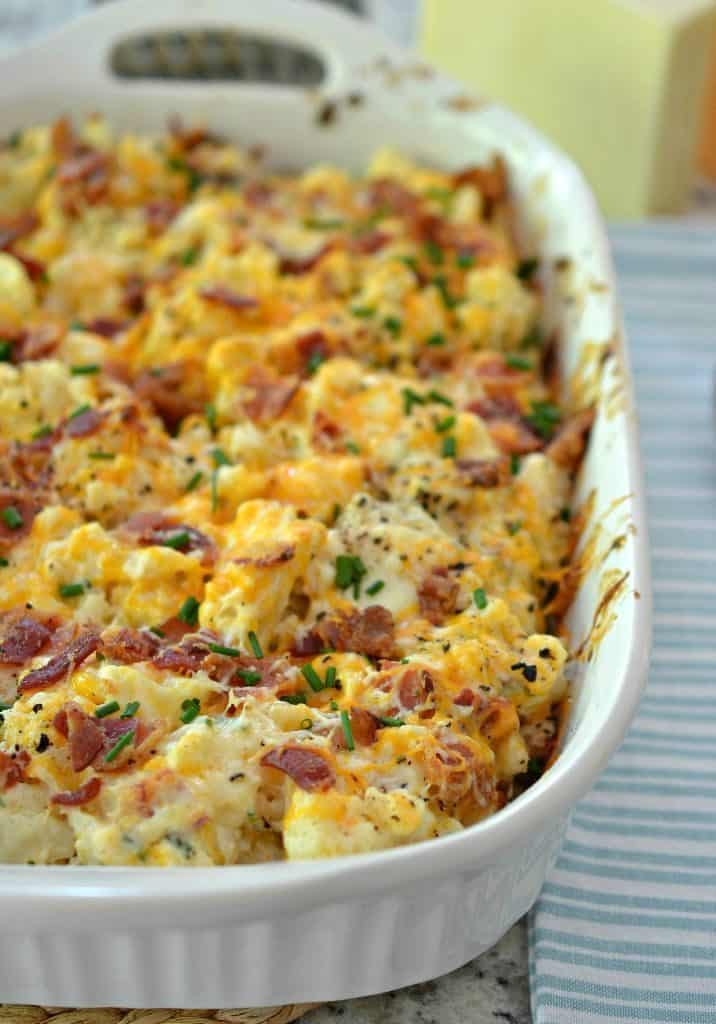 MY LATEST VIDEOS
Are you always on the search for new and original tasting veggies? No worries I will try to keep you covered on that front.  Here are some of my favorites!  Some are mine and some are from some of my favorite bloggers!!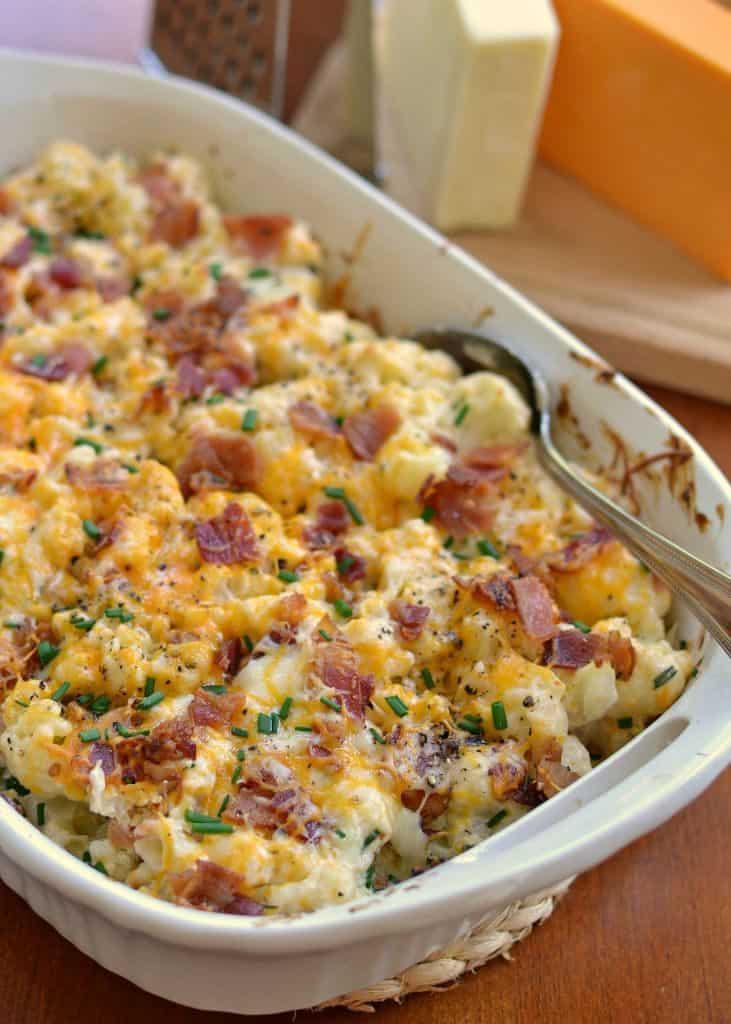 Here are a few helpful hints on making this Loaded Cauliflower Casserole the best that it can be.
The cauliflower should be steamed until it is fork tender.
I recommend the full fat sour cream, cream cheese and cheese for this recipe.  It just tastes better with it.
Fresh chives really make this casserole pop!  They are worth the added expense and trouble.
Season to taste with salt and pepper.  I love lots of pepper on this dish.
This Loaded Cauliflower Casserole can serve as a full meal.  It really is very filling.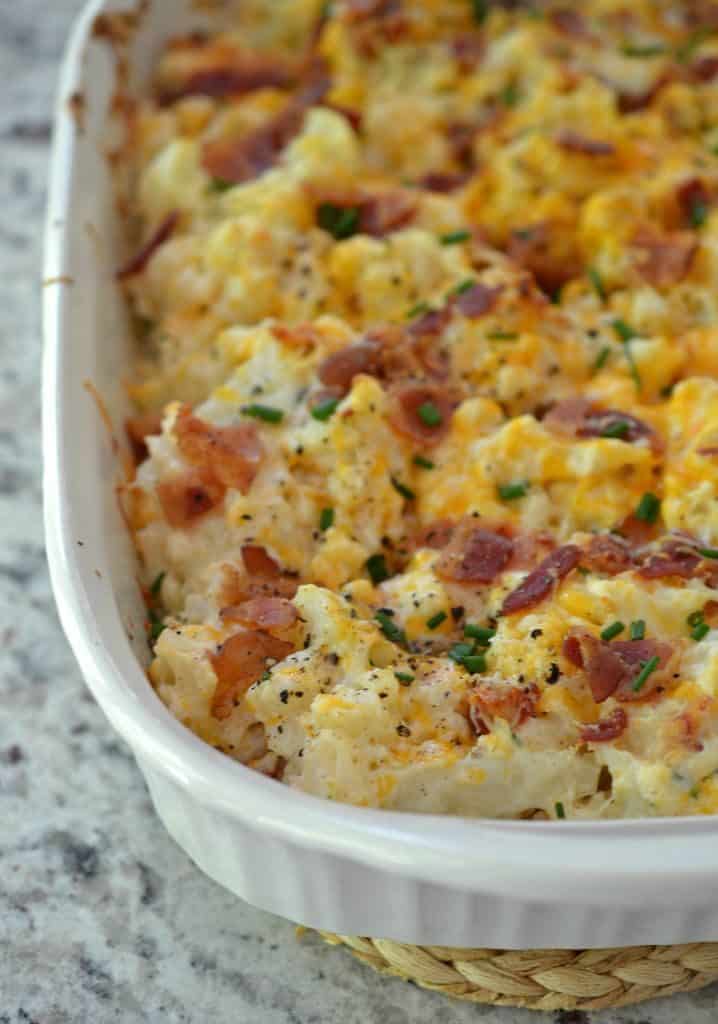 Put this delicious casserole on your rotation for the week.  You and yours are going to love it. Enjoy my food loving friends.  This one is scrumptious!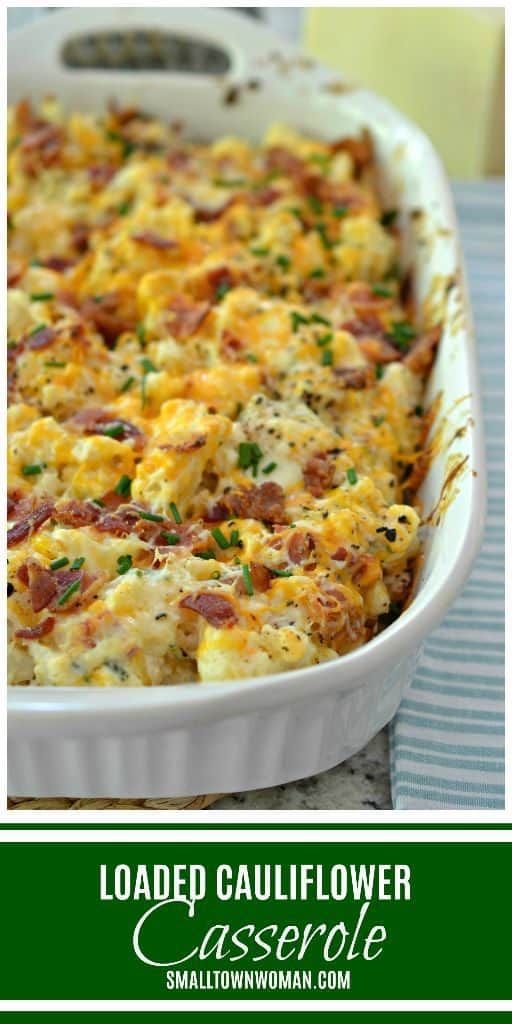 Print
Loaded Cauliflower Casserole
Ingredients
2 lbs cauliflower florets cut in bite size pieces
1 box (8 ounces) cream cheese softened
1/2 cup sour cream
1 1/2 cups sharp cheddar finely shredded
1 1/2 cups Monterey Jack cheese finely shredded
1 teaspoon garlic powder
1/2 teaspoon onion powder
6 slices crispy cooked bacon coarsely chopped
1/4 cup chopped fresh chives (reserve one tablespoon for the top)
Salt and Pepper to taste
Instructions
Steam cauliflower until fork tender; approximately 10 minutes. Drain well in colander.
Preheat oven to 425 degrees. Grease 9 x 13 inch baking dish.
In a large bowl combine cream cheese, sour cream, cheddar cheese, Monterey Jack, garlic powder and onion powder. Mix until creamy and smooth. Gently stir in cauliflower, 1/2 of the bacon and chives. Season with salt and pepper to taste.
Spoon into casserole dish and top with remaining bacon. Bake uncovered for 20-25 minutes or until the cheese is melted. Top with remaining chives and serve.
Other delicious cauliflower recipes you will love!!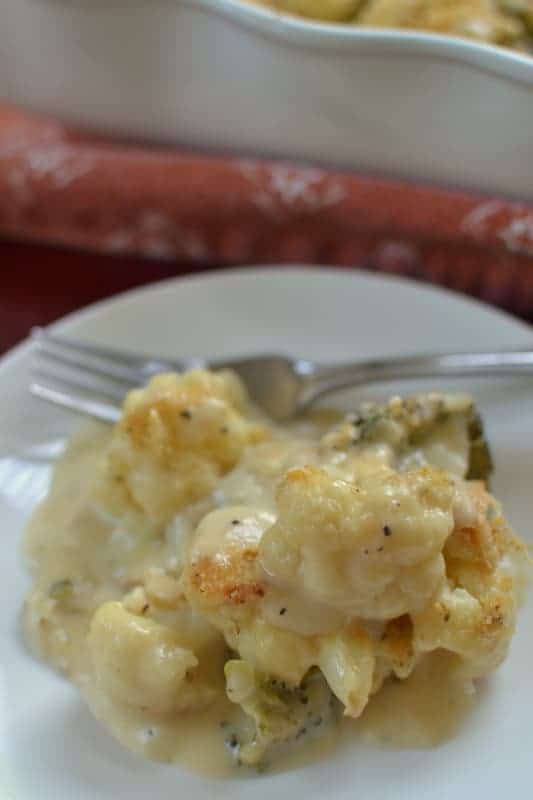 Broccoli and Cauliflower Au Gratin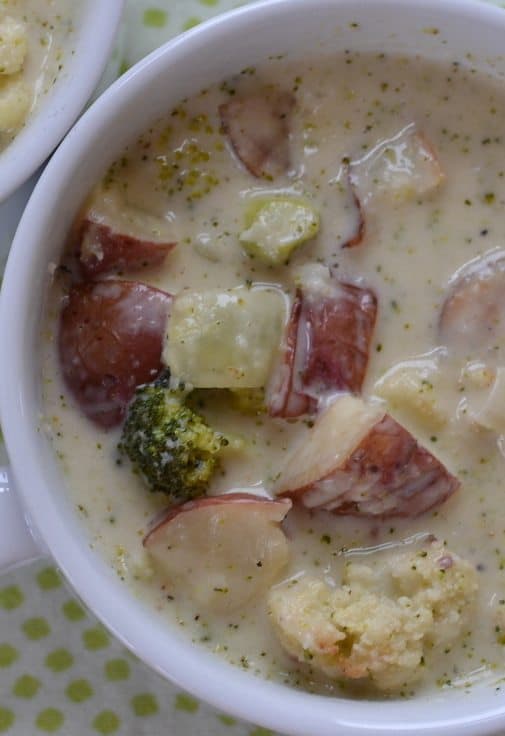 Roasted Broccoli Cauliflower Potato Soup