These CHEESY PANCETTA WRAPPED CHICKEN ROLLUPS are so quick and easy and delicious! Chicken stuffed with boursin cheese and wrapped in pancetta makes for the most moist and delicious chicken ever.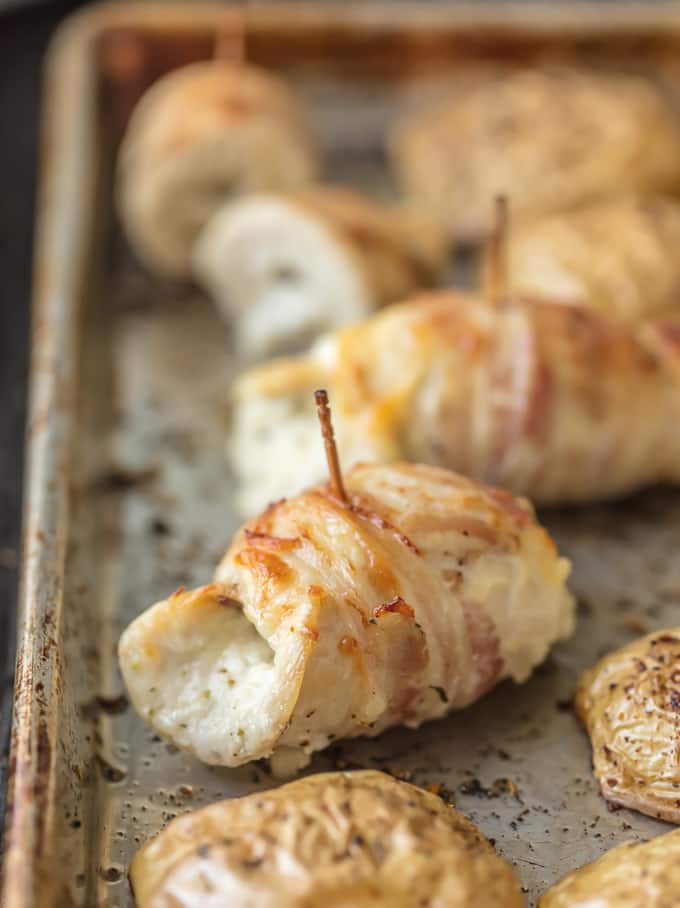 Are you guys big boursin lovers? MY NAME IS BECKY AND I'M A HUGE BOURSIN LOVER! If you don't know what it is, it's a creamy herbed cheese that is just begging to be stuffed inside chicken and wrapped in pancetta. It's SO delicious and an under-valued cheese in my opinion. If you haven't tried it, now is your chance. These Cheesy Pancetta Wrapped Chicken Rollups are a delicious and easy weeknight classic; perfect over pasta, rice, or on its own served with potatoes or veggies. I know you're gonna love it!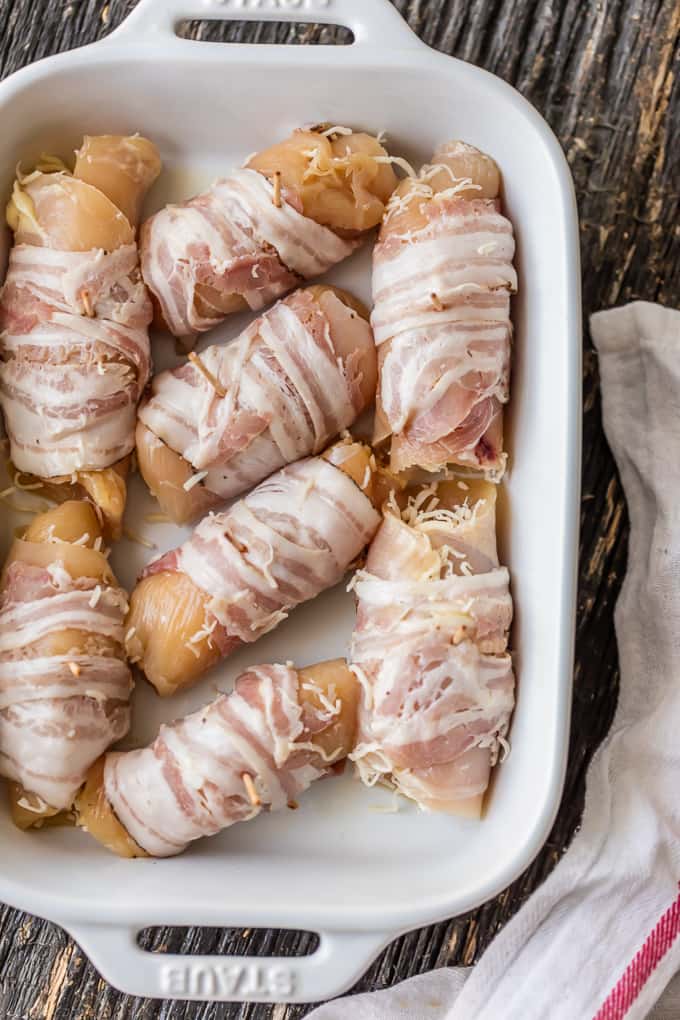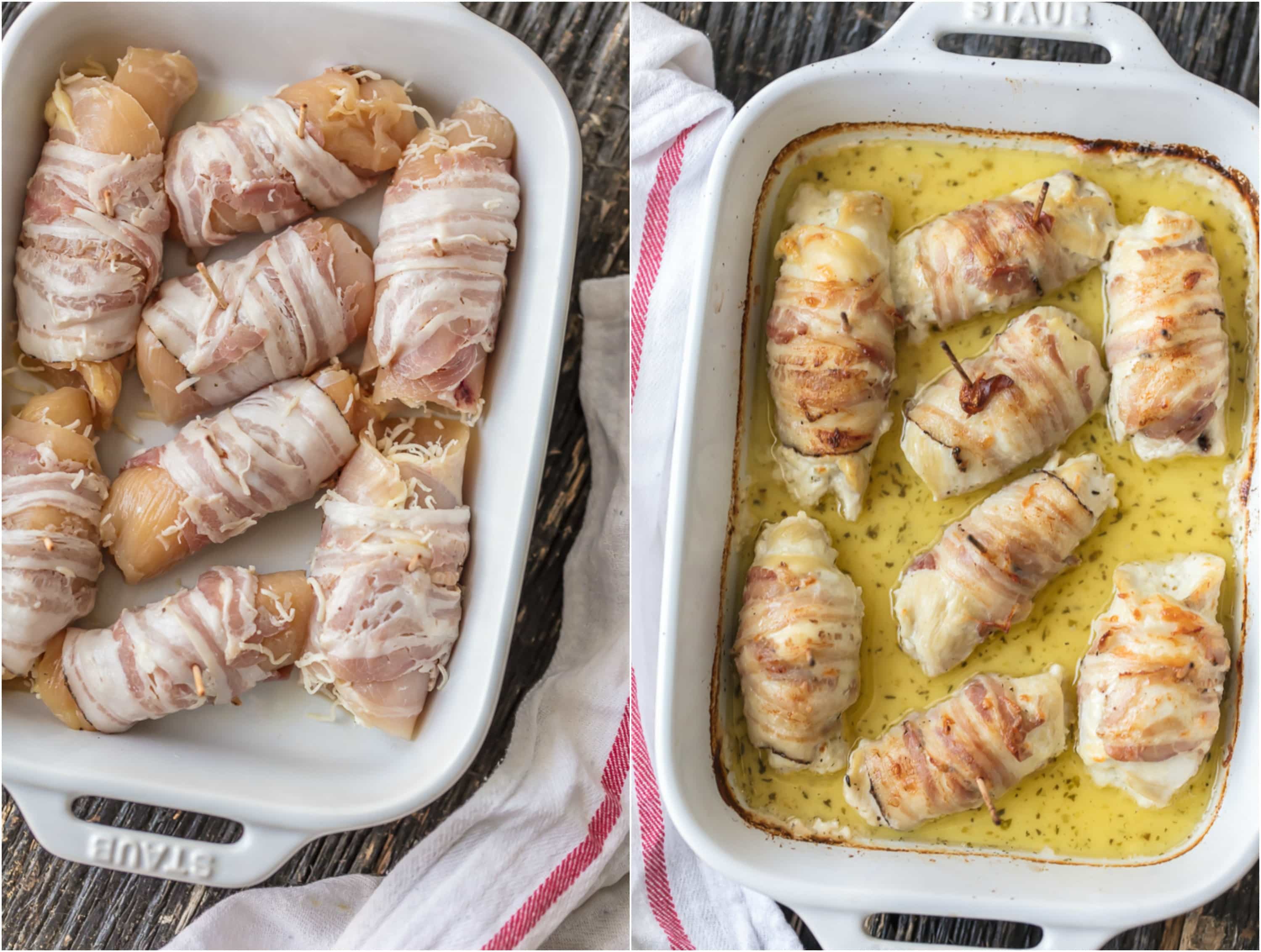 When you bake these Cheesy Pancetta Wrapped Chicken Rollups some of the boursin leaks out and creates the most delicious, bubbly, buttery, sauce around the chicken. You can spoon it over the chicken, over your side of pasta, rice, or veggies, or sip it with a spoon (don't do that). It's SO YUM. Just looking at these pictures is making me remember how much I love this recipe. It was one of the first meals my Mom brought us after Henry was born and I can still taste it.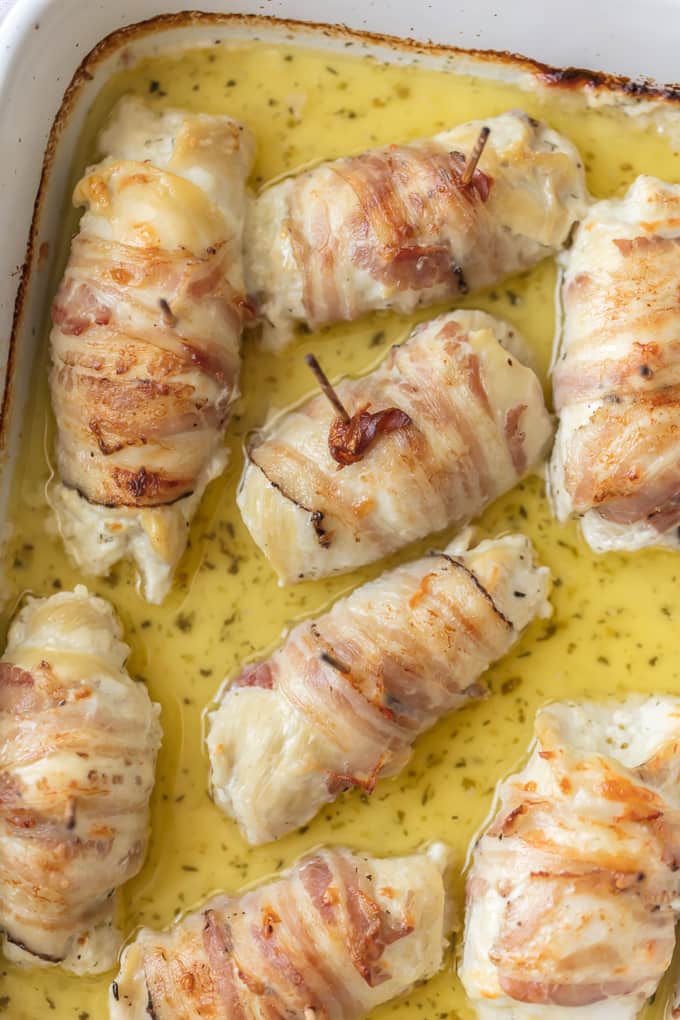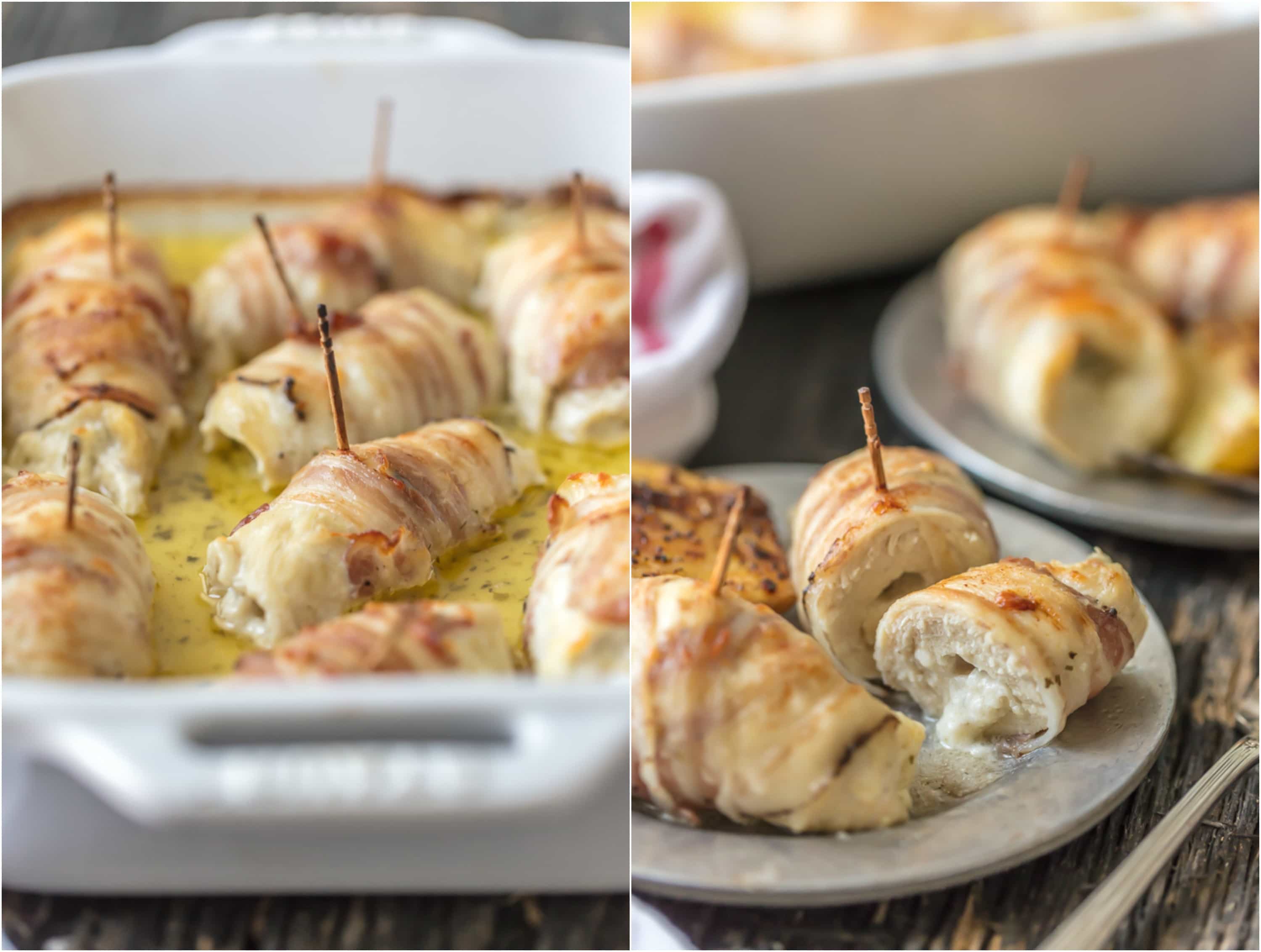 I know you see that boursin cheese oozing out. Perfection! Easy chicken meal for the WIN! Chicken, cheese, pancetta (basically bacon, so how can you not love it)…what more do you need? This meal has it all and just needs you to make it. Which…is pretty easy. Let's be honest. Tonight is the night!!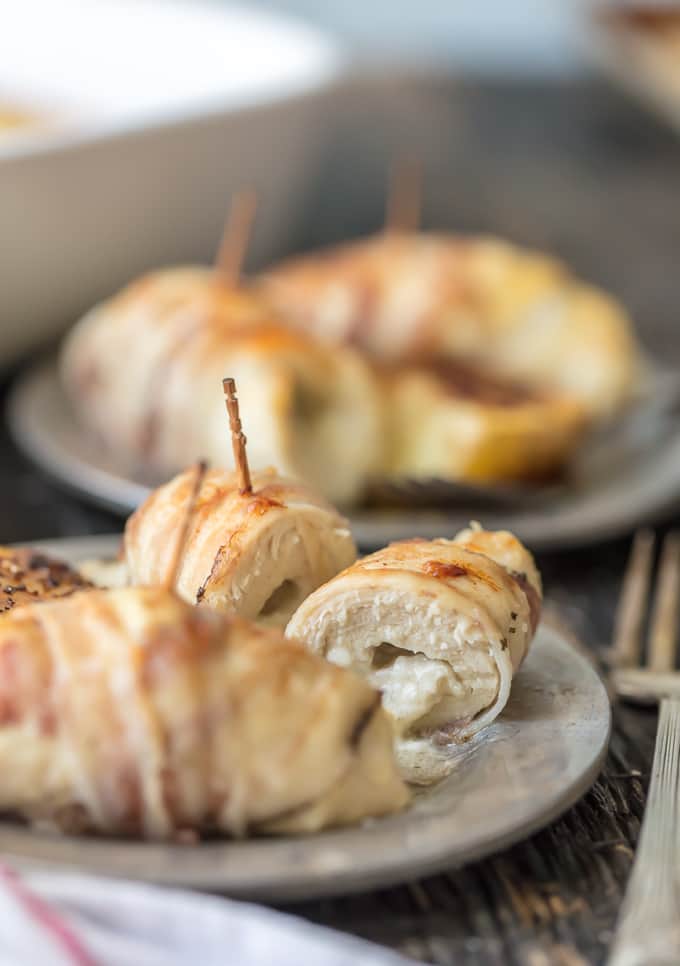 If you're looking for a simple meal the entire family will devour, these Cheesy Pancetta Wrapped Chicken Rollups are for you. All of the flavor and none of the fuss. So so so yummy!
Enjoy.
Cheesy Pancetta Wrapped Chicken Rollups
15 minPrep Time
30 minCook Time
45 minTotal Time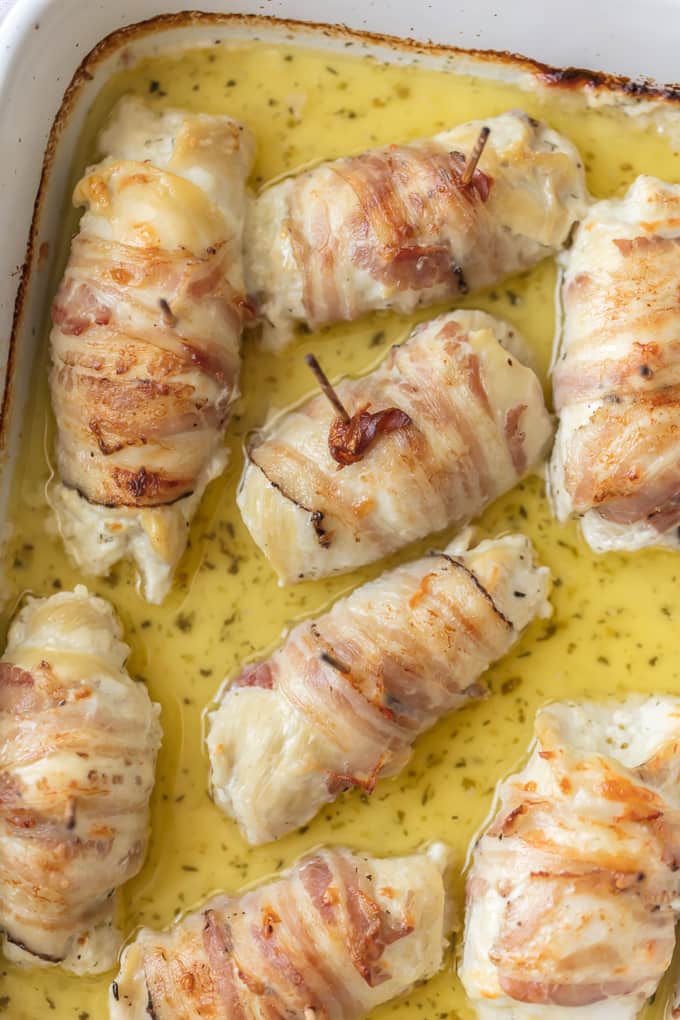 3.3 based on 3 review(s)
Ingredients
8 boneless, skinless, thin-cut chicken breasts. Purchase precut or butterfly 4 breasts then pound into ¼" thick chicken cutlets. Be careful not to pound holes in the breasts.
Kosher salt
Freshly ground black pepper
½ teaspoon favorite herb blend, such as Napa Valley, Italian, Herbs de Provence. Herb blends with thyme or rosemary work well.
1 (5.2 oz) package Boursin cheese or homemade herb cheese blend
½ cup shredded mozzarella
8 slices pancetta
Instructions
Preheat oven to 400F. Spray a baking dish with baking spray.
Pat the chicken dry and season it with salt and pepper on both sides. Place one teaspoon of Boursin cheese at the largest end of each chicken cutlet. Sprinkle mozzarella over each cutlet. Roll each breast cutlet up starting at the Boursin-cheese end. Wrap each chicken rollup with one pancetta strip and place in the baking dish, seam-side down. Brush the chicken with olive oil and sprinkle with your favorite herb blend.
Bake at 400F for 30 minutes or until a meat thermometer registers 160F internal temperature. Remove from the oven, cover lightly with foil and let rest for 5-10 minutes.
Enjoy!
7.6.8
2435
https://www.thecookierookie.com/cheesy-pancetta-wrapped-chicken-rollups/