This PECAN CRUSTED HONEY BOURBON SALMON is ultra delicious and easy! The perfect family meal with all of the flavor and none of the fuss.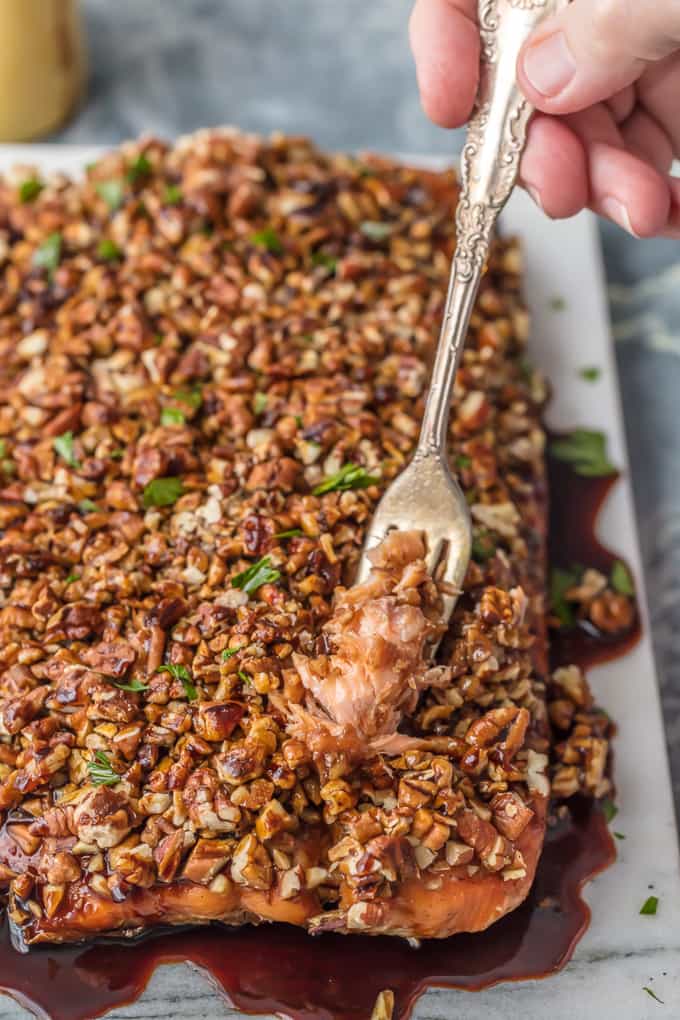 Everyone loves a great salmon recipe, especially here on The Cookie Rookie! We have done so many salmon recipes over the years, and they're always some of my most popular posts. Salmon with Avocado Salsa (pinned 2 MILLION TIMES), Caesar Salmon Foil Packets, Caprese Stuffed Salmon, the list goes on and on.
Salmon is awesome because its easy to work with, cooked through in minutes, and good for you! It's a staple at our house and was one of the first things I mastered when learning to cook…so you KNOW it must be something anyone can make delicious. This Pecan Crusted Honey Bourbon Salmon is as yummy as it is beautiful; sure to please if entertaining or great for a simple dinner at home with your family.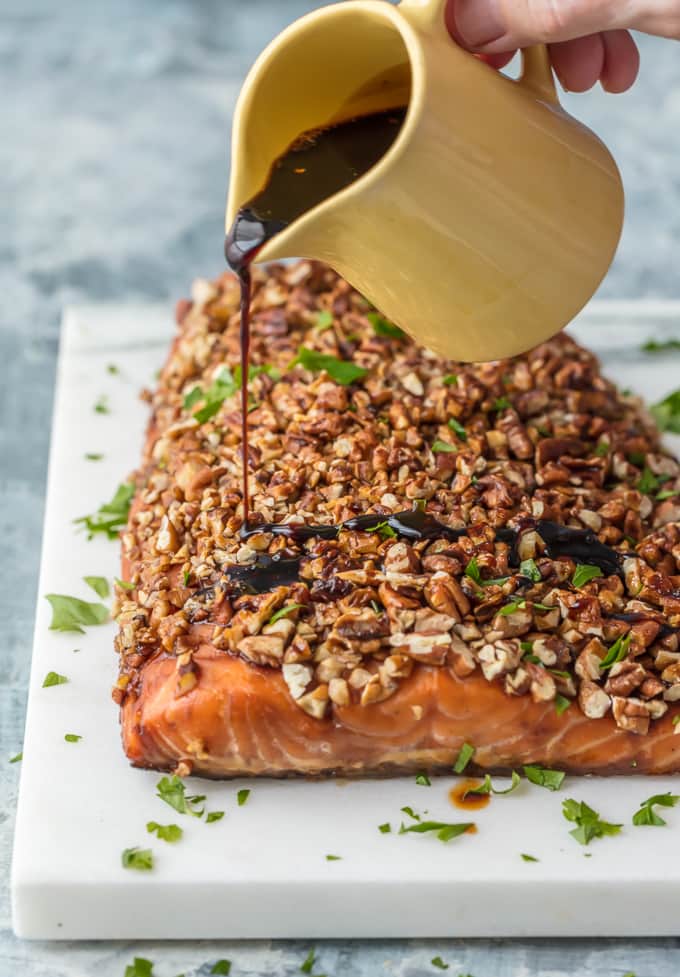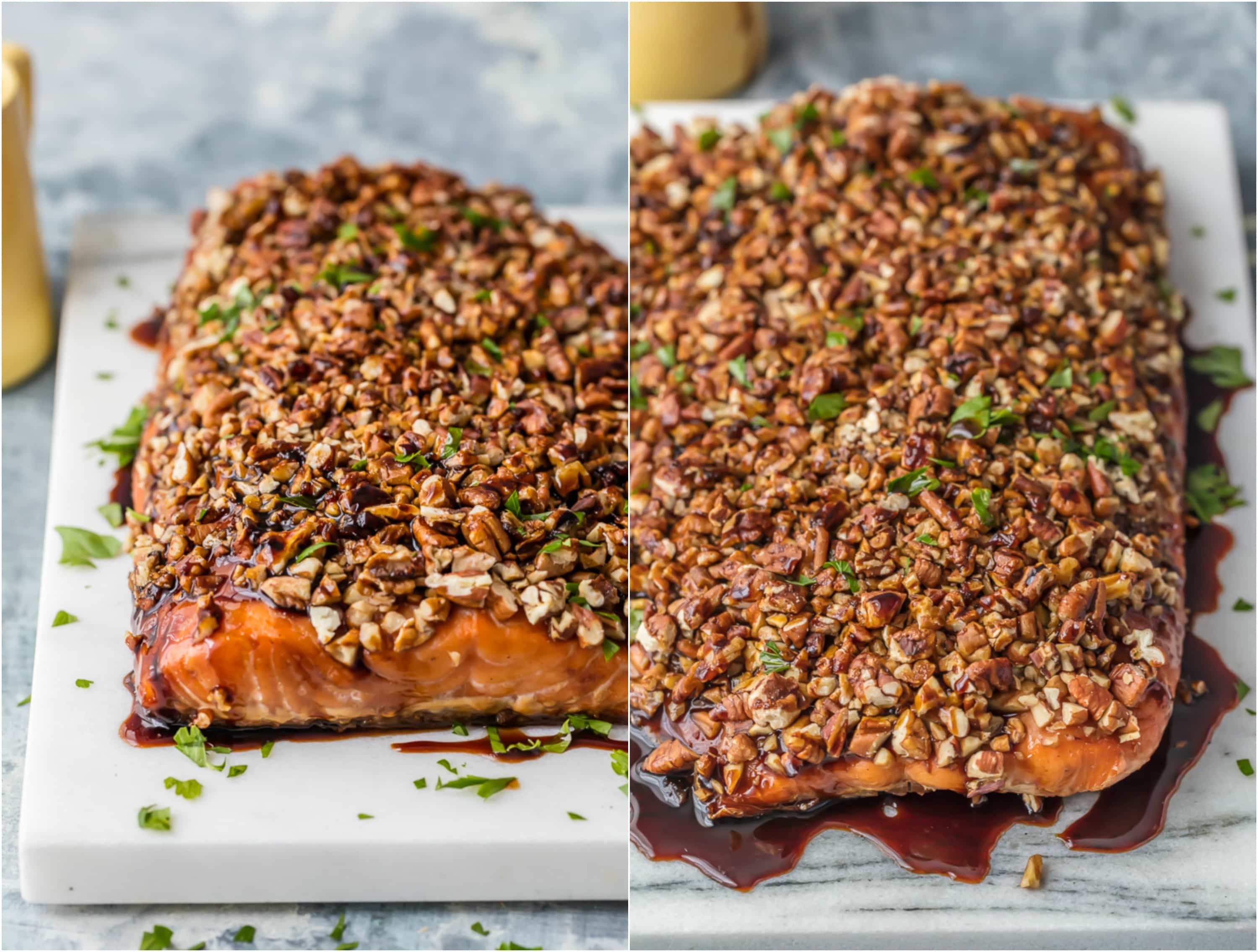 This tender salmon is marinated in deliciousness so it's so full of flavor by time you're ready to eat. It would be amazing served over rice, on a salad, or even on it's own. I love the crunch that the pecan crust adds to the equation. This is sure to be a winner even among people that aren't 100% sold on eating seafood.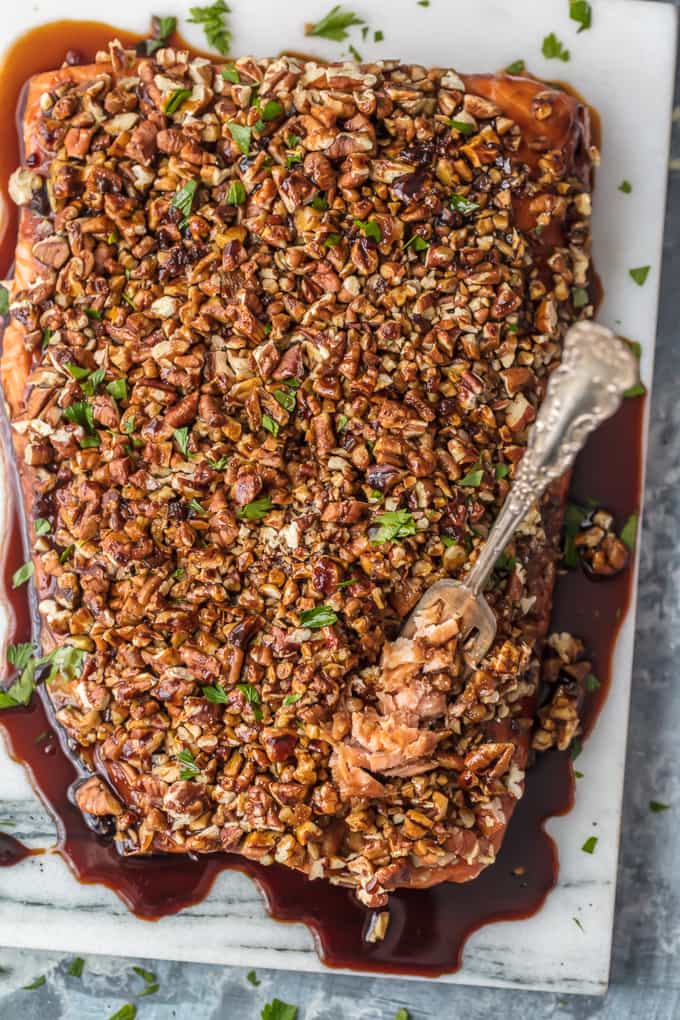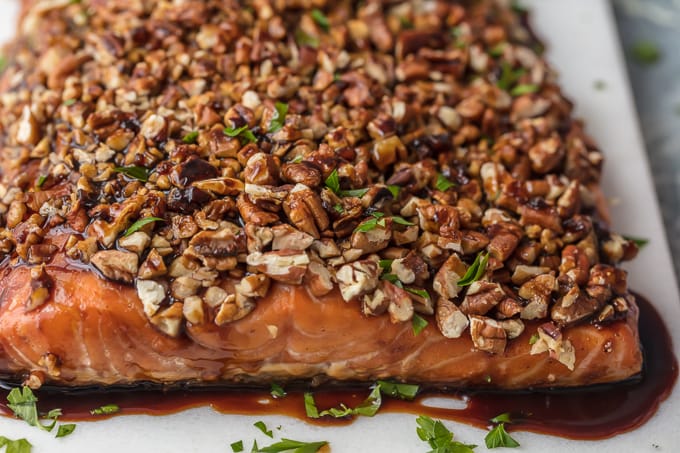 You shouldn't be scared to attempt salmon, you should embrace it! It's one of my favorite ways to eat fish and the possibilities for toppings are endless. Be sure you get a great cut of salmon from your grocer. I always ask them what kind of fresh salmon they have in and usually they can tell you which types will taste stronger than others based on where they were caught. We prefer a mild salmon at our house, but some love a bolder flavor. It's fun to try the different regions!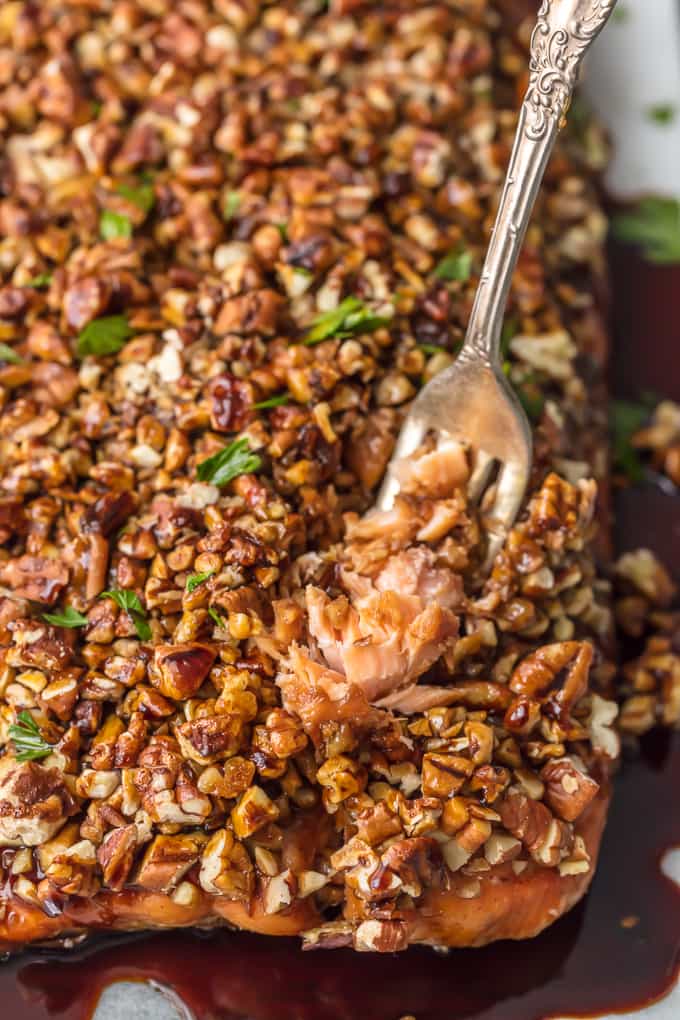 I hope you give this Pecan Crusted Honey Bourbon Salmon a try. I just know you'll love it as much as we do.
Enjoy!
Pecan Crusted Honey Bourbon Salmon
5 minPrep Time
25 minCook Time
30 minTotal Time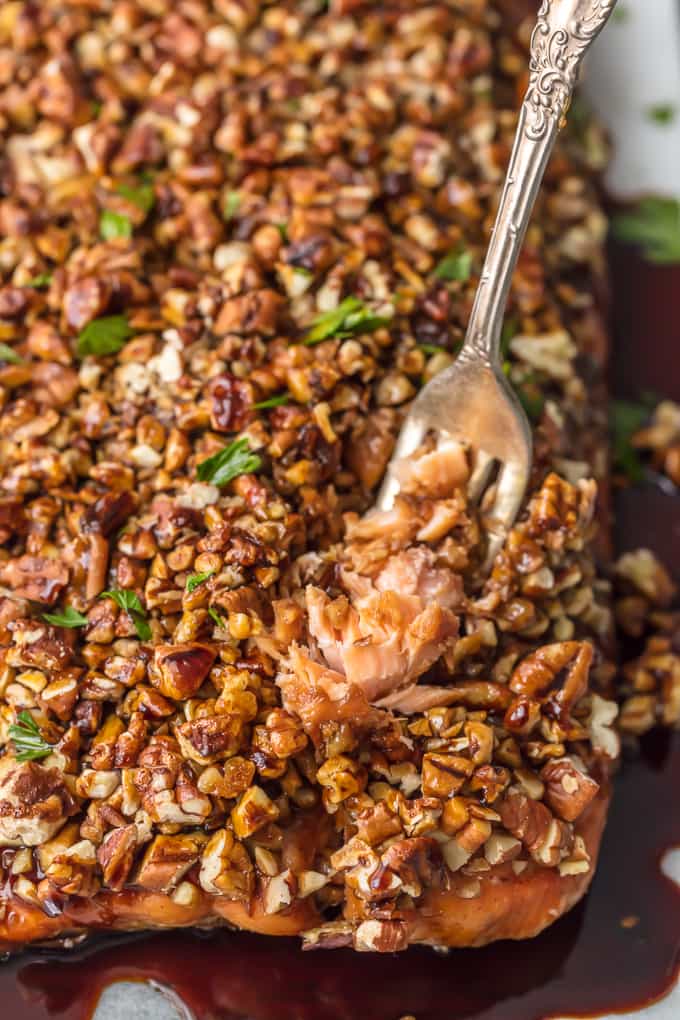 5 based on 1 review(s)
Ingredients
2 tablespoons butter, unsalted
3/4 cup brown sugar
1/2 cup honey
3 tablespoons cup low-sodium soy sauce
2 garlic cloves, minced
½ teaspoon freshly ground black pepper
1 tablespoon bourbon
Juice of 1 lemon
2 tablespoons butter, unsalted
1½-2 lbs. salmon slab or 6 salmon fillets
2-3 cups chopped pecans
Garnish: chopped parsley
Instructions
Preheat oven to 275F and spray a baking dish with cooking spray.
Melt the butter in a small saucepan and add the brown sugar, honey, soy sauce, garlic, black pepper, bourbon, and lemon juice. Whisk until well blended. Bring the glaze to a boil over medium heat and stir often. Reduce the heat to low and simmer the mixture until it thickens and reduces, approximately 3-5 minutes. Stir the glaze often.
Place the salmon, skin-side-down, on the prepared dish. Brush the salmon with the prepared glaze. Cover the salmon with pecans and press the pecans firmly into the salmon. Cook for 10 minutes at 275F.
Drizzle additional glaze over the salmon and cook another 5-10 minutes or until a meat thermometer inserted in the thickest part, registers 120F.
Remove the salmon from the oven and turn the oven to broil.
Drizzle the salmon with glaze and place it in the oven. Broil 1-2 minutes, just until the pecans turn golden. **Watch the salmon while it broils – the pecans can burn quickly. The final internal temperature should be 125F-130F. Remove the salmon from the oven and allow it to cool, in the dish, 5-10 minutes before serving.
Enjoy
7.6.8
2432
https://www.thecookierookie.com/pecan-crusted-honey-bourbon-salmon/