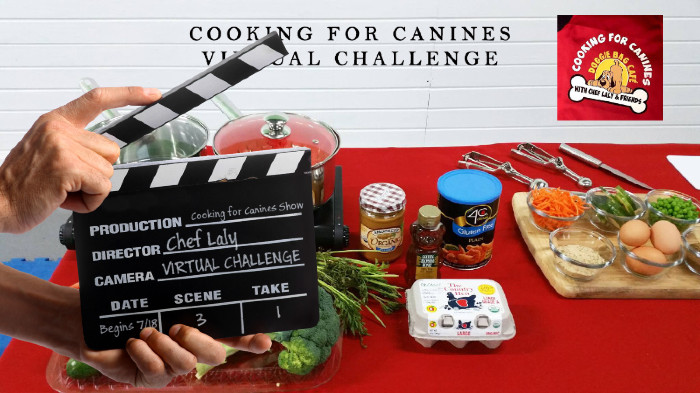 Okay Chefs… Are You Ready to take on the…
"Cooking for Canines VIRTUAL CHALLENGE"
WINNERS in each category will be Showcased in the Upcoming Season"3" of the Cooking for Canines with Chef Laly Show…
Let the Cooking for Canines Virtual Challenge Begin!
Recipe Entry Requirements & Starting Dates
Name of Your Recipe and Category:
1. JR. CHEF VIRTUAL CHALLENGE
· July 11th, 2020 (7 to 17 years old)
(Must be supervised by a parent or guardian)
2. ALL CHEFS VITUAL CHALLENGE (All Ages)
· ARF-Petizer – July 18th
· ENTRÉE - July 25th
· DOG-Sert – August 1st
o You can Enter just One or All Three!
o Jr. Chefs Only Enter Only One!
o Remember Only use Ingredients in our PAW-Approved List… Once you
1. Three Photos- 1 each of ; )
· You
· Your Dog
· Your Plated Creation(s)
2. A 3 to 5 Minute Video of the recipe:
· Prep
· Cooking or Baking
· Plating
You can Edit your Video or we can do it for you…
3. Entry forms will be sent to you via DM or Email
4. Entries will be Judged by the Doggie Bag Café Chefs & their Celebrity Dogs…
5. To Enter or If you have any questions, please email...
Click here to view

Giveaway