This chicken noodle soup is packed full of flavor and uses roasted spaghetti squash as the noodles.  This will keep the gluten free people happy!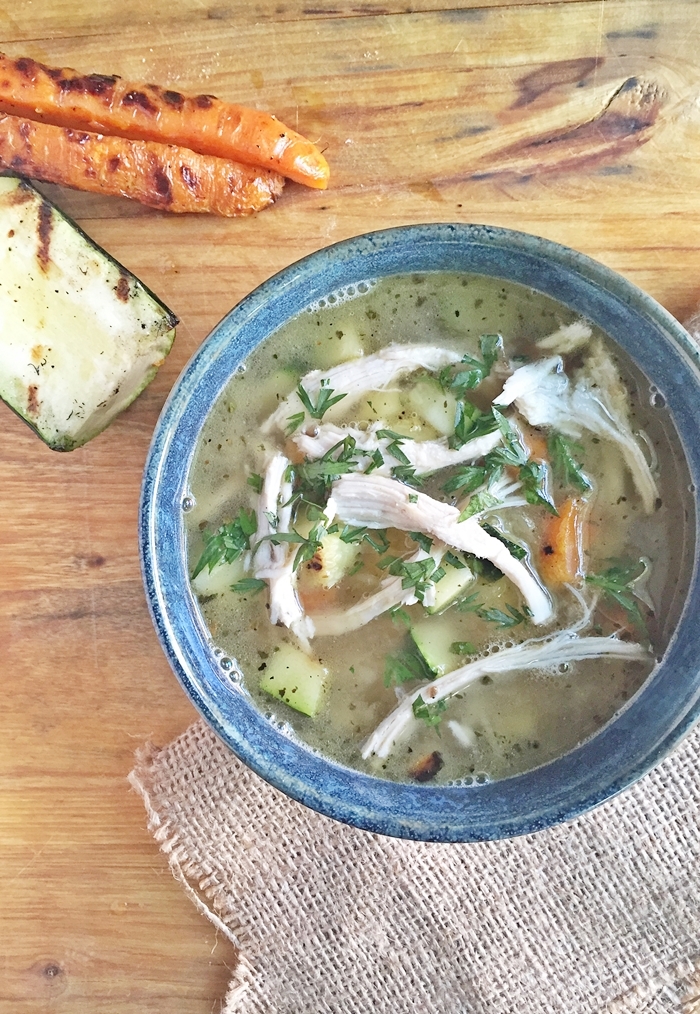 I am going to go out on a limb and say this is one of the best chicken noodle soup recipes I have ever made.  That is a big statement I know!  I truly am proud of how it turned out.  Everything from the roasted vegetables, to the freshly shredded chicken adds many tasty elements to this chicken noodle soup. Of course when we think of chicken noodle soup,  it's usually in a can or a small package, and over the top loaded with more sodium than one needs in one day.  Making homemade soups allows you to control the salt content, but also control the flavor content, and this gluten free chicken noodle soup recipe is made just this way.  It is another one of my recipes that doesn't have to be followed specifically.  You can add any vegetables you like as well as flavorings.  I'll usually add a bit of hot sauce to my chicken soup recipes as I really like the spicy flavor when I am sipping on something delicious.
For the chicken I just purchased a barbecue chicken from the store.  Left over chicken breasts can work really well for this too, but I like the roasted chicken because all you have to do is take it home, made eat a piece of two of the crispy skin (if you want!) and then pull all of the chicken off the bones.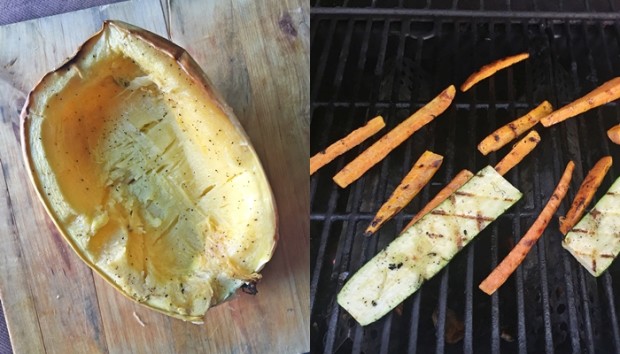 I added as much flavor as I could through simple processes like grilling vegetables, roasting the spaghetti squash, and using ingredients like garlic, onions, herbs, lemon juice, and just a touch of hot sauce.  I love hot sauce in my soup!  It adds such a great kick.  The other key is letting the soup simmer for a little while to let all of the flavors come together, and adding in salt and pepper after this has happened.  I have seen it so many times that cooks will create this healthy and delicious soup recipe but season it just after they add in the liquid.  The soup will simmer away for a half hour and when they go to taste it, it's unusable because its too salty.  Now the cook has to spend the next hour or so adding in more ingredients, and more liquid and hope they can save it.  What a way to ruin a chicken soup recipe!
Long story short, season your soup right at the end, just before serving.  This allows you to totally control the flavor instead of leaving it up to science.
Also make sure to add the squash in just before serving, or even better, add in some cold spaghetti squash to the bowl, and then ladle hot soup over it.  You want the squash to act like the noodle of the dish, and if it gets over cooked than it will just fall apart and be totally lost in the dish.
Chicken and Spaghetti Squash Noodle Soup
Ingredients
Soup Base
1

lb.

of cooked shredded chicken

1/4

cup

of diced white onion

3

cloves

of sliced garlic

1

Tablespoon

of butter

1

Tablespoon

of olive oil

1

teaspoon

of dried basil

1

teaspoon

of dried oregano

1

teaspoon

of dried thyme

1.5

L

of good quality chicken stock

Juice of 1/2 lemon

Hot sauce

Optional

3

Tablespoons

of freshly chopped flat leaf parsley
Grilled Vegetables
4-5

carrots

sliced lengthwise

1

zucchini

sliced lengthwise

garlic powder

salt and pepper to season

2

Tablespoons

of olive oil
Spaghetti Squash
1

Spaghetti squash

halved, with the seeds removed

salt and pepper

2

Tablespoons

of olive oil
Instructions
Preheat the oven to 375 degrees, rub the flesh of the spaghetti squash with the oil, salt and pepper and place face down in a casserole dish and roast for 30 minutes.

While the squash is cooking, preheat your grill or barbecue until it is very hot. Season the carrots, and zucchini well with oil, salt, pepper and garlic powder. Sear the vegetables on high heat until they get really nice crispy grill marks on them, about 10 minutes. Take off and let cool.

Heat up the oil and butter in a large pot and add in the onions and garlic. Cook until the onions are just light brown in color, and you can smell the garlic, about 3-5 minutes.

Add in the shredded chicken and cook for another 1-2 minutes and then add in the dried herbs and chicken stock. Simmer for 25-30 minutes. Dice up and add in the zucchini and carrots, and check the soup for seasoning. Finish with a squeeze of lemon and freshly chopped parsley.

For plating, scoop out the desired amount of squash "noodles" into each bowl and top with the hot soup. Serve
It seems like a bit of a process to grill the vegetables separately as well as roasting the squash and then making the soup in a pot.  It's probably not even a process I would have recommended for my cooks in the kitchen.  I won't lie it takes a bit of effort to make this soup delicious.  If you picture yourself in a nice warm house, looking outside at the chilly weather (if it is chilly) and you are sipping on a nice healthy bowl of gluten free chicken noodle soup, then it's worth it.  Wouldn't you agree?

You may also like :