Grilled corn on the cob is such a simple dish what takes no time at all to make. This recipe uses the heat of sriracha and the sweetness of dill to make a full flavored side dish!
I have been grilling corn for at least the last 10 years of my culinary career.  I used to grow up on corn that was either from a can, or boiled until absolute mush.  I love my mom and dad, but there are better ways to enjoy corn.  This is also different than a lot of chefs I know that grill corn.  Another way to do it is to keep the corn in the husks and throw the whole cobs on the grill that way.  That will steam the corn, but there's so much flavor opportunity by just grilling it.  Corn becomes sweeter and develops a nice caramelized flavor.  Once the corn is grilled you can use it for so many things!  It works so well in a soup.  Just cut the grilled niblets and add them into the soup right before serving.
In one of the restaurants I used to work in we used to tell grilled corn as a side dish and it was tossed in a delicious tarragon butter.  We used to sell 125-150 cobs of corn every night!  It got pretty intense some days.  The problem is that corn, once grilled doesn't keep the heat for very long. So quite often the servers would be bringing back cold corn.  All it took was like 30 seconds of taking the plate of food to the table for it to get cold!  It as so frustrating!  I love corn, but I don't think I could ever eat 150 cobs in one sitting, so I will never have to worry about that ever again!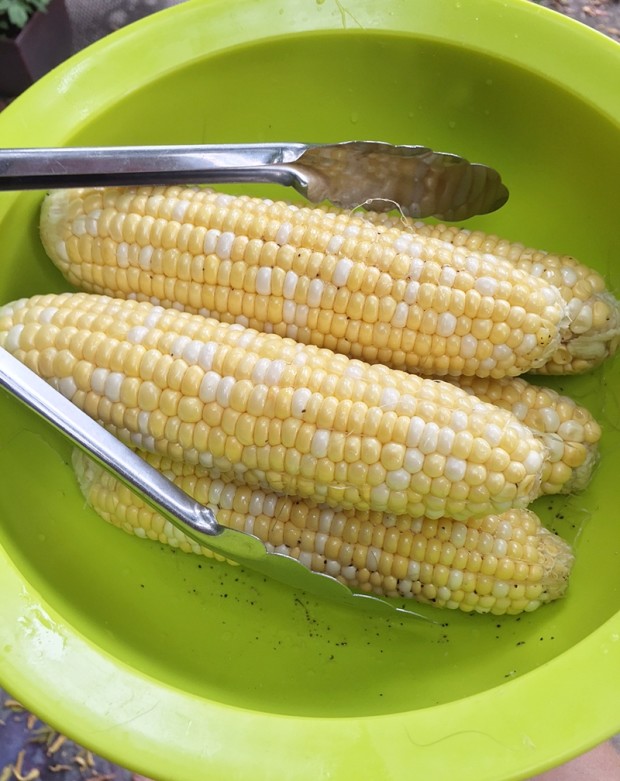 The key to develop the most flavor is to make sure your grill is piping hot.  I use a little bit of olive oil, and lots of salt and pepper.  One my grill is as high as it can be, I'll put the corn right on the hottest part of the grill.  It will take a few minutes for the corn to start get some color on them so you can close the lid and let the grill do its work.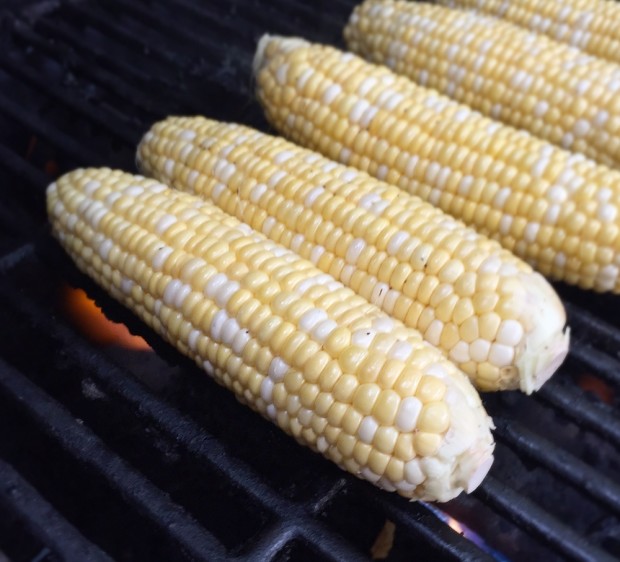 It shouldn't really take more than 10-15 minutes to get that beautiful golden brown color on the corn. Once that corn is done.  It's time to drizzle it with delicious butter.  Butter makes everything better.  Believe me…I checked.  But I wanted to try something different.  Sriracha and dill go really well together.  All it takes is a little bit of melted butter, a squeeze of delicious Sriracha, and some freshly chopped  dill for a spicy twist.  Grilled corn on the cob at its tastiest!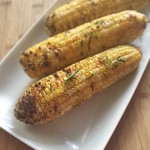 Grilled Corn on the Cob with Sriracha and Dill Butter
Ingredients
Corn
5

cobs of corn

2

Tablespoons

of olive oil

1

teaspoon

of garlic powder

salt and pepper to taste
Sriracha and Dill Butter
2

Tablespoons

of melted butter

1

teaspoon

of sriracha

1

Tablespoon

of freshly chopped dill
Instructions
Shuck the corn and season well with the oil, salt, pepper, and garlic powder

Preheat the grill on the highest setting and let heat up for 5-10 minutes

Put the corn on the grill on the hottest spot.

Rotate the corn every 3-5 minutes until all sides are nice and caramelized

Melt the butter in the microwave and whisk in the sriracha

Toss the corn in the butter and add in the freshly chopped dill. Plate and serve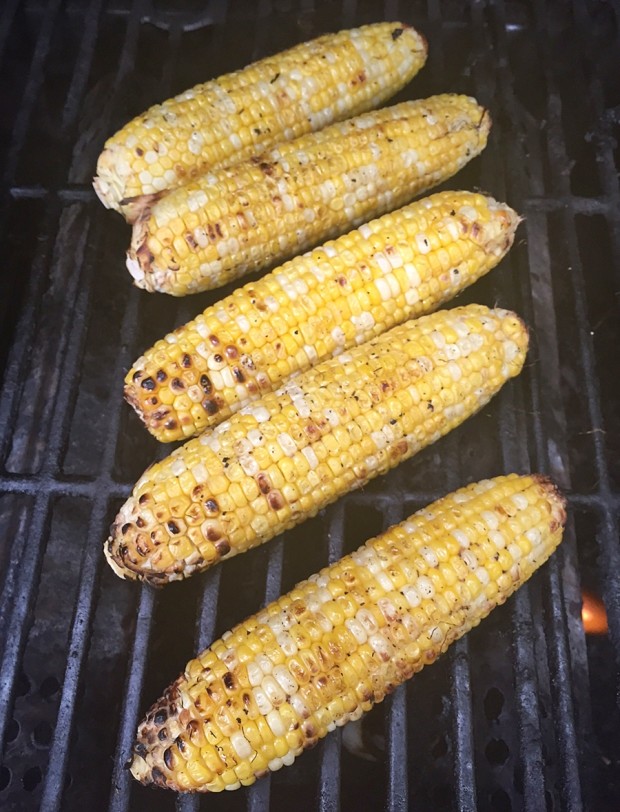 On a completely unrelated note,  Heather and I will be travelling at the end of September!  We did an amazing trip to Paris last year and we will be spending 8 days in Lisbon and then back to Paris for two.  The plan is to do a lot of relaxing, sightseeing and of course eating!  We will be staying in a really nice Air BnB and I will be creating some tasty recipes that will be showing up on the blog in later posts.  Stay tuned for more on that!  I know, you're thinking that corn has nothing to do with Portugal, and technically it doesn't!  This was just the blog post where I decided to tell all of my lovely followers.
You may also like :