So this post is all about a healthy and tasty low oxalate chicken stirfry recipe.  I decided after doing more research and getting some feedback, that I need to remake this recipe.   I believe the ingredients now are much better for those who suffer from kidney stones, and I think the pictures look way better than they did before!  Read on!


So originally I has started writing about low oxalate recipes and kidney stones because my wife Heather has been dealing with them for a number of years.  There were days where she was unable to get out of bed because the pain was so intense.  After doing more research I found out that over 1 million people in just the US along suffer from kidney stones and I wanted to do my part to help!  I can't help medically, but I sure can help culinarily (not a word, but I'm totally creating it right now!)  For a recap of items that are high (and low) in oxalate, head over to my beef cabbage wraps post.
My original chicken stirfry recipe I had here contained soy sauce, and even though it was gluten free, it's still soy and the kidneys have a hard time processing it, especially if the kidneys are extra sensitive to oxalate.  Scratched that!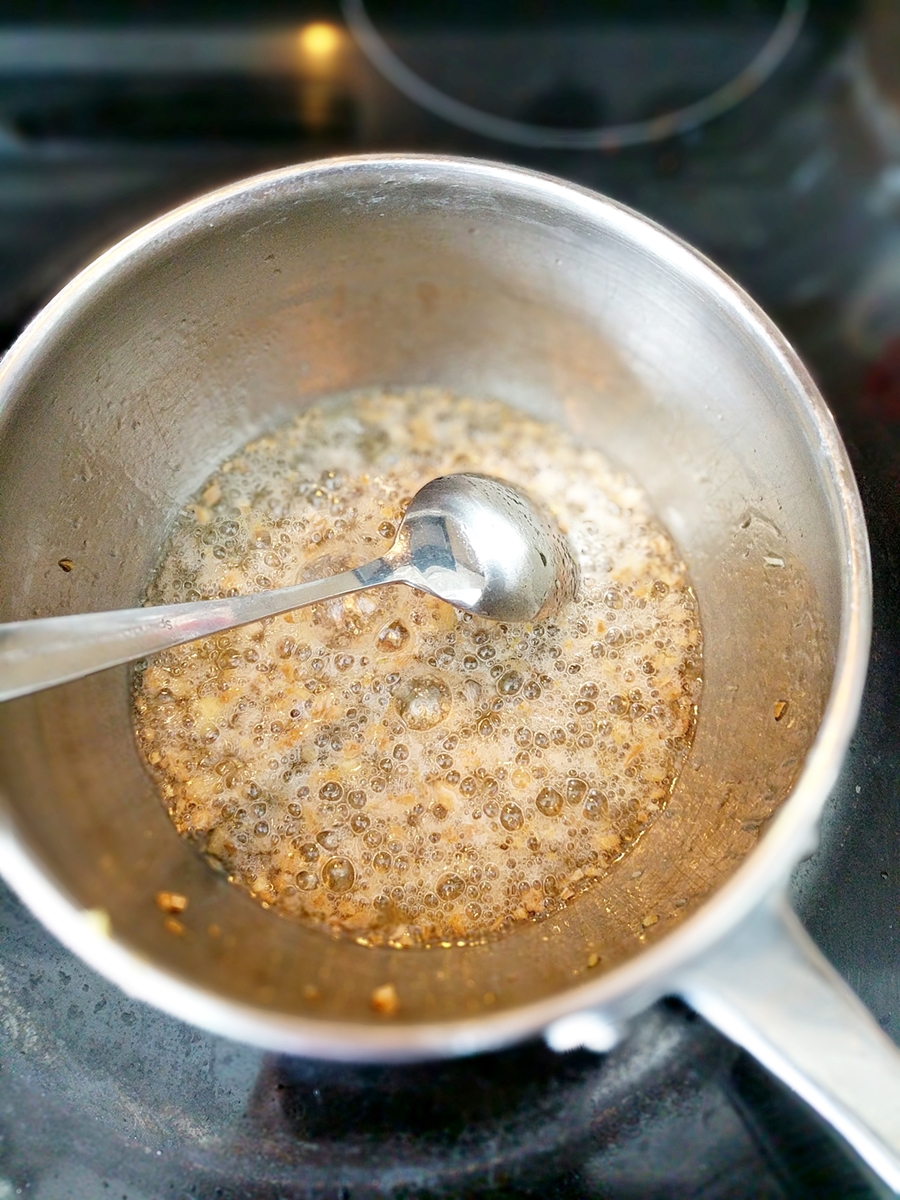 Instead of soy sauce I slowly cooked some chopped garlic in a pot.  The key to making thie garlic is to cook it slow and let it get brown and sticky.  If garlic overcooks even a little bit, it turns bitter and has to be thrown out!  Once the garlic hits this delicious sticky stage, I add in some honey (low oxalate) and let it bubble and reduce a bit.  I make sure not to reduce too much as I can also burn the honey too!  I add in some rice wine vinegar.  BE CAREFUL!  The vinegar will make the whole pot bubble so make sure to use a lid to cover yourself from getting burned!  It will be worth it though.  I add in some chicken stock and reduce to concentrate the flavor, and spice it up with my favorite hot sauce.  Season and go!  It won't be a super thick sauce, but full of flavor.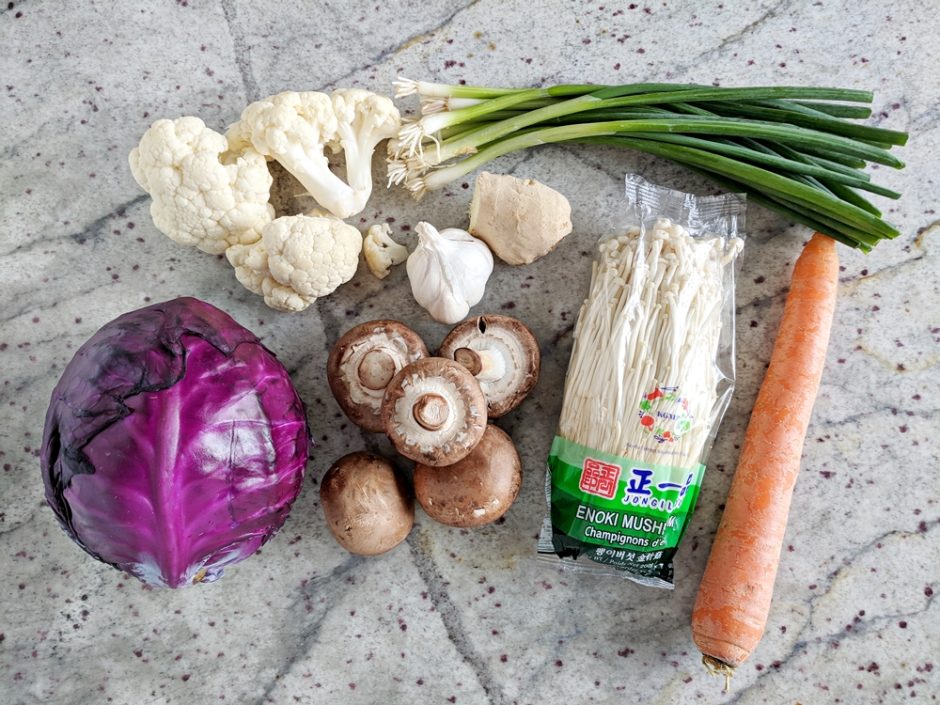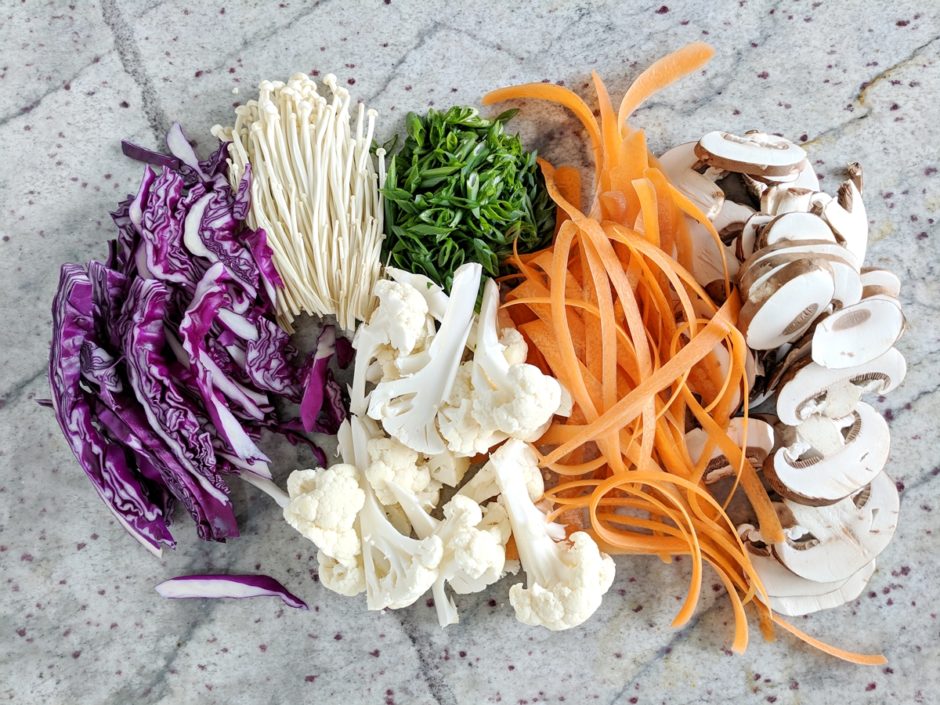 For the vegetables I went with red cabbage, cremini mushrooms, enoki mushrooms, carrots, cauliflower and some green onions.  The only one that isn't low oxalate is the carrots, but they only a moderate amount.  Use sparingly depending on your sensitivity!  I think the color combinations work out well (It's all about the photos baby!) and keep kidney stones at bay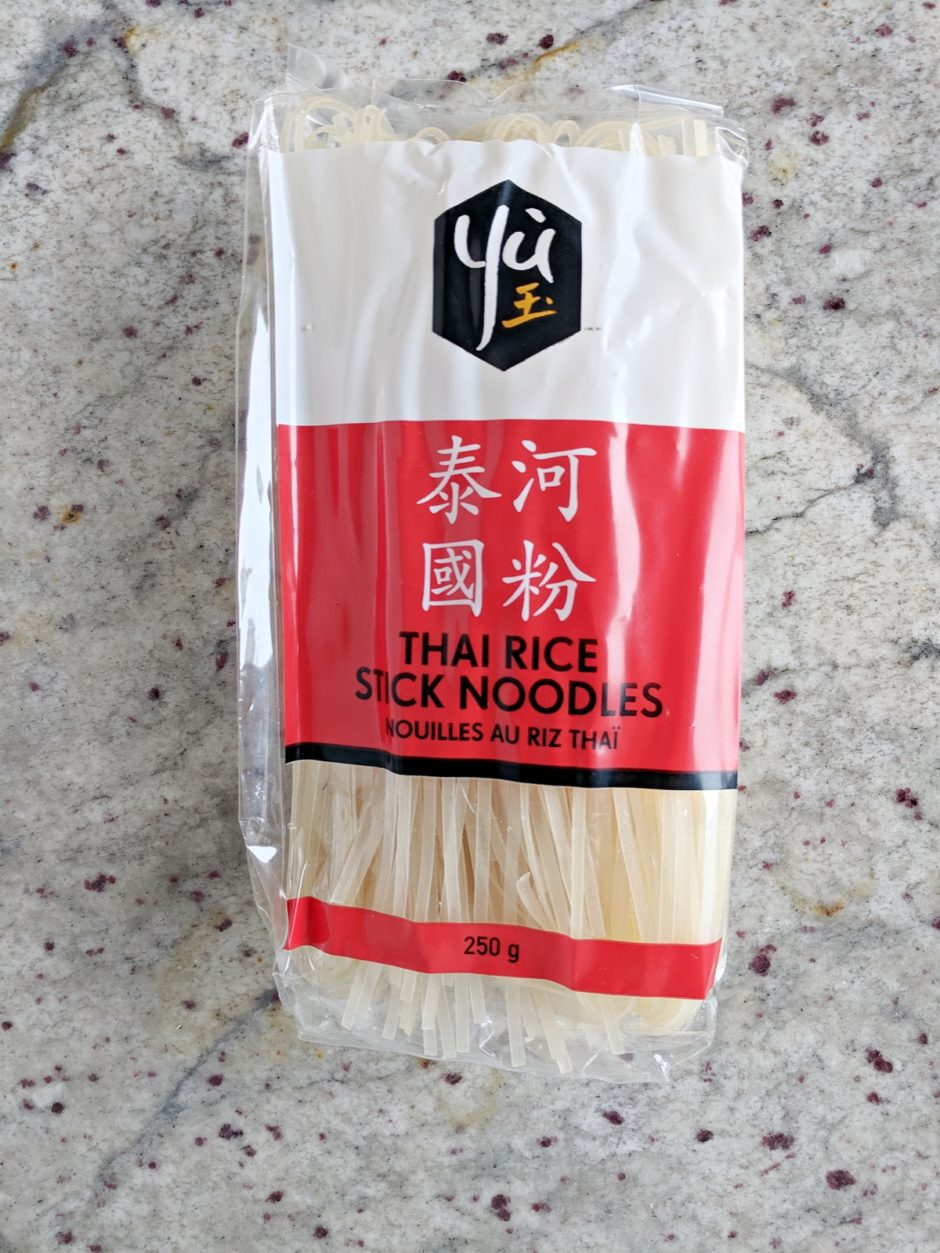 For the noodles I just used stick rice noodles.  The ingredients of these noodles are literally water and rice.  Perfect for low oxalate diets!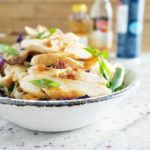 Low Oxalate Ginger Chicken Stirfry
Course:
Entree, Gluten Free
Ingredients
Stirfry Mix
1

lb.

cooked chicken, dark meat or light meat

I like using cooked chicken. It can just be added into the dish and heated through.

4

cups

purple cabbage, sliced

4

cups

cremini mushrooms, sliced

2

cups

peeled carrots

3

cups

cauliflower florets

1/2

cup

slant cut green onions

1

handful

enoki mushrooms

2

tbsp

vegetable oil

1

package

rice noodles
Stirfry Sauce
4

cloves

minced garlic

1/4

tsp

grated ginger

1/4

cup

honey

1/4

cup

rice wine vinegar

1

cup

chicken stock

1

tsp

favorite hot sauce (optional)

1

tbsp

vegetable oil
Instructions
Stirfry Sauce
Heat up the oil in a small pot with the garlic. Make sure the garlic is cooked on low to medium heat. You want to make brown sticky garlic, not black.

Once the garlic is browned, add in the honey and let bubble for a moment. Then add in the vinegar and cover with a lid to make sure you don't get burned by the bubbling.

Add in the chicken stock and reduce by half. Season with salt and pepper and add your favorite hot sauce.
Stirfry Mix
Cook the noodles according to the directions on the bag. Drain, cool, and set aside.

Heat up the oil in a large wok. Cook the vegetables according to the degree of hardness (cauliflower, mushrooms, cabbage, carrots) and add in the chicken last. The key is to stirfry so make sure not to fill the pan too full. It may be helpful to do the vegetables in batches depending on how big your wok is.

Once the vegetables are well caramelized, add in the chicken and noodles and heat through. Add in the stirfry sauce and mix well. Don't reduce the sauce anymore as it may become too salty. Garnish with green onions and serve!
The best part about chicken stirfry recipes is that they are pretty easy to make. You can add in whatever kind of vegetables you want, and this works out really well for low oxalate diets.  Hopefully this gets you one step closer to not having to deal with kidney stones anymore.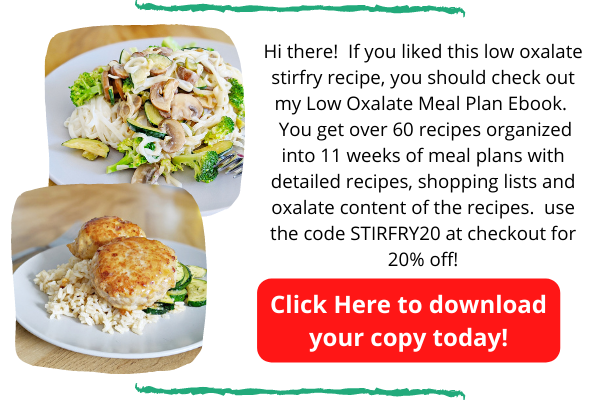 You may also like :