This recipe for roasted Brussel sprouts kicks so much butt!  The addition of maple syrup and ginger offers a unique and full flavored taste to these otherwise boring little vegetables.  Read on to learn more about how to prepare this Brussel sprouts recipe!

These days I am really enjoying cooking with Brussel sprouts.  I remember growing up as a child eating these mini cabbages around the holidays, and the crap was boiled out of them!  I don't really know how else to say it, but they were just boiled and served without any seasoning.  I still liked them then (surprisingly!) but I think there is so much more that can be done with these tasty vegetables.  I remember when I was the chef at The Main Dish, and I had the opportunity to go on a local breakfast TV program and showcase how roasting Brussel sprouts makes them taste so much better.  I added in roasted garlic oil, fresh dill and good old maple syrup and they were life changing (Or so the lady from TV said.  Her words not mine! Haha)
Most popular Brussel sprout recipes  are usually prepared with bacon, and man is that a delicious way to go!  Vegans need a side dish too!  I wanted to try something different and really enjoy the sweetness of maple syrup, and the kick of freshly grated ginger.  This seems like a strange way to go, but I promise you this recipe for Brussel sprouts is different, but so worth the gamble!
The key to getting this Brussel sprouts recipe just right is mixing the syrup well after the veggies have broiled for a little while.  Don't add the syrup in the beginning because you will most likely burn the Brussel sprouts.  I also like to make sure that I don't mix around the brussel sprouts too much as the leave can fall away and burn much easier.
This is a simple recipe that is a delicious change from the usual ingredients.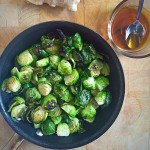 Maple Ginger Roasted Brussel Sprouts
Ingredients
1.5

lbs

of halved Brussel sprouts

1

tsp

of freshly grated ginger

1

Tablespoon

of real maple syrup

1

Tablespoon

of olive oil

1

Tablespoon

of butter

salt and pepper to taste
Instructions
Heat up your oven to the broil setting.

Toss the Brussel sprouts with the ginger, olive oil and season with salt and pepper

spread evenly on a baking sheet and put in the oven on the middle row.

After 3-5 minutes take out and mix around on the tray to make sure the Brussel sprouts are browning evenly. After another 3-5 minutes toss with the maple syrup and mix well. Finish for another 2-3 minutes and be careful that the syrup doesn't burn. Add in the butter and let melt. This will add a bit more color and lots of flavor!

The Brussel sprouts should be a little al dente and nice and crispy.
I know a lot of people don't like Brussel sprouts.  I am hoping this simple recipe gives those people a bit of hope in enjoying these little cabbages.  If they are prepared right, they have a lot of flavor, and of course are super healthy for you!  I had the opportunity when I was on TV to turn some people over to roasted Brussel sprouts, and I hope I can do the same for you too.
Try this Brussel sprouts recipe out with my kick butt turkey shepherds pie recipe!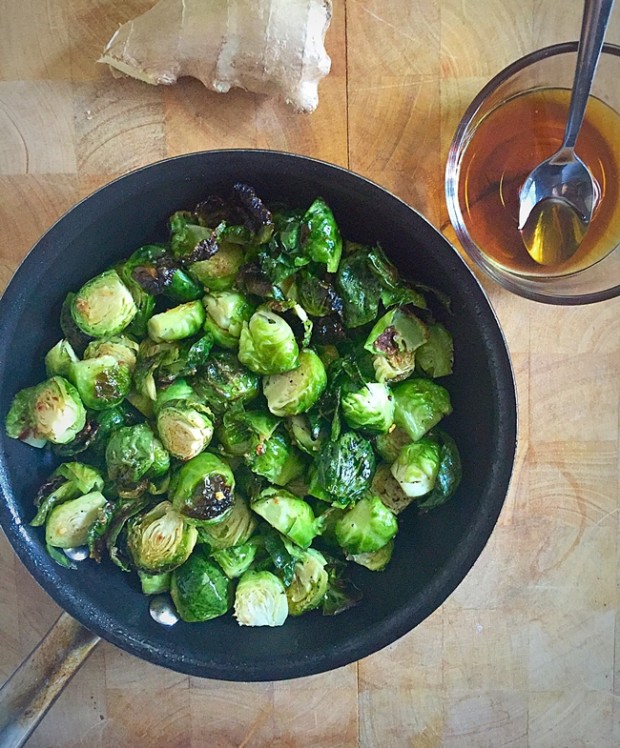 You may also like :