This Brussel sprout salad is full of flavor and textures.  Theres bacon, a creamy feta dressing, bacon, roasted Brussel sprouts….did I say bacon?  Everything is topped with a poached egg that adds extra creaminess to the dish.  Oh yeah!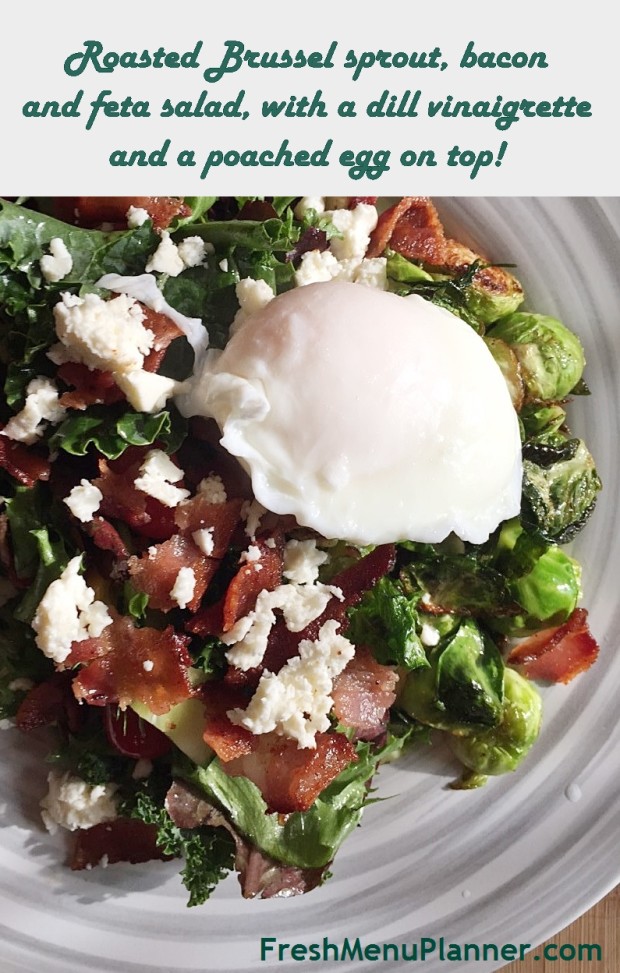 The weather in Calgary has been pretty rainy the past couple of weeks, but that isn't going to stop me from posting a delicious, simple salad recipe.  Come on weather, try and stop me!
I am sure I have mentioned this a few times now, but I really love salads.  You can add anything you want into them, and get a wide variety of textures and flavors.  I really like the full flavor of combining salty, sweet, crunchy, and creamy all into one salad, and I think I've come up with something pretty tasty if I do say so myself.  I think this Brussel sprout salad does the job!
This salad is a little different in that part of it is hot and part of it is cold.  You may notice some roasted Brussel sprouts, as well as a poached egg on top.  One of my favorite things about this salad is breaking open that bright yellow yolk, and mixing it with the tart dill dressing, creamy feta, and crispy bacon.
Once your bacon is precooked and your egg is poached, it really doesn't take anytime at all to throw together this salad.  The dressing is only a  few ingredients and can be whisked together seconds before it's time to chow down!
The other thing I like about this simple salad, is that it is one of the tastiest ways I have found to get  3-4 servings of vegetables in one dish. If you are taking this salad to work, You can substitute out the poached egg for a sliced hard boiled egg and it will still taste just as good, it just might not be as creamy.
Here is the recipe to make this creamy Brussel sprout salad!
Brussel Sprout Salad with Bacon, A Feta Dill Dressing, and Poached Egg
Ingredients
2

cups

of mixed greens

1

cup

of kale greens

1/4

cup

of cucumbers

diced

2

Tablespoons

of crumbled feta

3

strips of cooked

crispy bacon, crumbled

1

cup

of Brussel sprouts

trimmed and halved

1

egg
Dressing
1

Tablespoon

of olive oil

1

Tablespoon

of white wine vinegar

1

Tablespoon

of freshly chopped dill

Salt and Pepper to taste

Olive oil for cooking
Instructions
Heat up a pan with 1 teaspoon of olive oil on medium high heat. Add in the Brussel sprouts and cook for 3-4 minutes until the leaves get dark brown and caramelized. They should have a nice sweet taste, but not too bitter. Set aside.

Whisk together the oil, vinegar and dill, set aside.

For the poached egg, heat up a small pot of water to a simmer but not full boil. Add in a pinch of salt and carefully crack an egg into the pot. Don't let the water boil too much or it will break up the egg white. Use a slotted spoon to carefully scrape the egg off of the bottom of the pot. Cook time for a soft poached egg should be no more than 3-4 minutes.

Take the egg out of the water and let sit on a piece of clean paper towel to drain off excess water.

Mix together all of the salad ingredients with some of the dressing and put on a plate. Put the Brussel sprouts beside the salad, drizzle the rest of the dressing on them and top with the poached egg.

Break the yolk and mix in with the salad to add a nice creamy texture to the dressing.
You may also like :