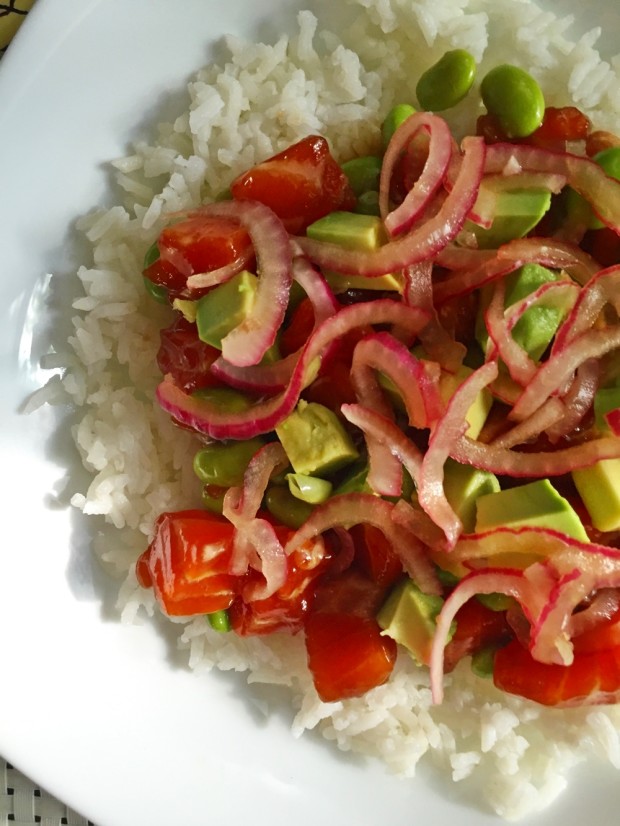 Heather and I went on a trip of a lifetime to Paris last fall.  We did the trip differently than people usually would.  One of the things we tell people is that we never went up or near the Eiffel tower.  I know!  That sounds crazy right?  Why would you go to Paris and not go up the Eiffel tower?  Well one of the main reason why is that we wanted to see as many museums, and eat as much food as we could.  We were in Paris for 10 days and still didn't see as much as we wanted to see.  We ate REALLY well though and one of our favorite dishes we had was actually at a sushi restaurant.  This marinated salmon avocado bowl was so tasty, we had two of them!  I think this is a really healthy dish and I had to create a version of it for the blog.  I created my dish differently than the one in that little Japanese restaurant in Paris.  This version uses a gluten free soy sauce, sesame oil, and my home made pickled red onions.  Come on right?
I know that this dish may scare some readers away as I served this salmon marinated and raw.  Please don't leave!  I promise you can have this dish if you don't like raw seafood.  All you have to do is roast, or saute the salmon until it is just cooked and then add in the other ingredients and serve it over rice.  All will be revealed in the recipe below!
The main reason I like this recipe so much is that it's so simple to make.  The only thing that takes a long time is pickling the onions (15 minutes) or cooking the rice (25-30 minutes depending on volume.)  I've made this dish for Heather a few times now and it's the perfect lunch for her the next day.  I just keep the marinade separate from the salmon and then Heather will mix everything together and let marinade for only 10-15 minutes.  The salmon pieces are cut nice and small so they absorb a lot of the soy and ginger flavor quickly.
The pickled red onions are also super easy to make.  I used rice vinegar, ginger and a touch of soy sauce and that is it!  Because the onions are sliced so thin, they pickle in no time.  Make sure you are careful though when slicing the onions.  When I slice them I make sure they almost look transparent.  That way they marinade quickly and absorb all of that delicious pickled flavor.
I added in edamame beans and served this dish on rice.  You could certainly add in any vegetables you want and serve it on noodles as well.  That is another reason why I like this dish so much is that there are many things you can add to it.  Once you have the basic marinade for the salmon,  you can combine it with anything you want.
Enough chat.  On to the recipe!
Salmon Rice Bowl with Avocado
Ingredients
Salmon with Marinade
1

lb.

fresh salmon

skin off, cut into 1/2" cubes

1/2

cup

of gluten free soy sauce

1/2

teaspoon

of sesame oil

1/2

teaspoon

of grated ginger

1

teaspoon

of hot sauce

optional
Pickled Red Onions
1.5

cups

of thinly sliced red onions

1/2

cup

of rice wine vinegar

1/2

teaspoon

of gluten free soy sauce

1/4

teaspoon

of freshly grated ginger
Rice
1.5

cups

of medium grain white rice

3

cups

of water

salt to season the water
Garnish
1

cup

of thawed edamame beans

1

avocado 1/2" diced
Instructions
Cook the rice on the stove on medium heat. Once the water and rice come to a boil cover with a lid and turn down, Simmer until the rice is cooked. Fluff with a fork and put into a refrigerator to chill down

Mix together all of the ingredients for the salmon marinade and then pour over top of the fish. Mix well and let sit for 15 minutes.

Mix together the ingredients for the pickled onions and put into a mason jar. Add in the thinly sliced red onions and then put the lid on the jar. Shake the jar and let sit for 15 minutes until the onions start to wilt. They should have a nice pickled flavor.

Add in the avocado and edamame beans to the salmon mixture and serve on the rice. Garnish with the pickled red onions and enjoy!

NOTE: If you want to enjoy the salmon cooked instead of raw, simply marinade the salmon the same way you did before, but roast in a 350 degree oven for 5-10 minutes until the salmon is just cooked. Mix in the edamame beans and the avocado after to warm through, and then serve over the rice.
This dish is so delicious.  It's packed full of healthy protein, omega 3's and healthy fiber.  It's crazy that with all of the luxurious pastries and escargot that we ate in Paris that this would have been one of our favorite dishes, but it was!  If you have never booked a trip to Paris and are looking for an eating experience you will never forget,  just go!  You won't be disappointed!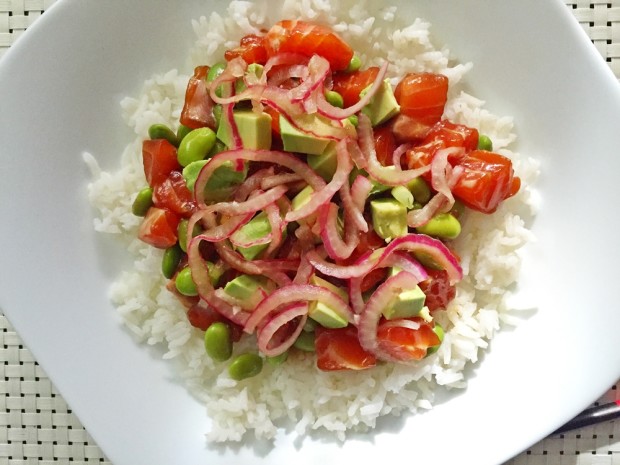 You may also like :