This awesome tuna salad recipe ditches the mayo and replaces it will avocado, spicy hot sauce, and fresh salsa.  Could this get any better?

I love canned tuna.  There are so many different ways a tuna salad recipe can be created just with one can.  Its the perfect portion size for Heather and I, and I love my protein so this is a great way to go.  The problem with tuna is that it can sometimes be pretty bland.  You have the same boring tuna fish sandwich, and you just need something new.  Something different.
Well I hope this tuna recipe does the trick for you.  The first thing that is different from regular tuna fish sandwiches is that there is no mayonnaise in this recipe!  You must think I'm crazy right?  How can canned tuna not be mixed with mayo, it would be so dry without it.  Come on Matt!  You're a chef!  Get your shi……..
Calm down, calm down.  It will all be all right!  It turns out that there is something that adds a delicious creaminess to this dish that is packed with healthy fats, vitamins and minerals.
I know…It's no surprise that it's avocado.  It's in the title of the post if you didn't notice.  I wanted to try and make this tuna recipe a little more dramatic, but it is just tuna.  Tasty tuna, but still tuna.
Nonetheless, This is a great twist on a classic tuna salad melt style recipe.  The tuna is mashed together with a bit of hot sauce, olive oil, avocado, fresh lime juice, freshly chopped garlic and just the right amount of salt and pepper.  Basically it's like an addictive guacamole, but with tuna added into it.
The tuna salad is served on pita in this recipe, but don't fret!  This recipe works perfect on rice cakes or grilled sweet potato wedges, so celiacs unite!  This can be made gluten free too.
The salsa is just a simple combination of fresh chopped tomatoes, red onions, cilantro, lime juice, hot sauce and salt and pepper.  It cuts through the fattiness of the tuna and the avocado perfectly.  Let's also not forget the melted cheese on this delicious little creation.  You will never eat tuna salad any other way ever again!
Once you make the tuna base, it will actually keep for a day or two, because the avocado is mixed with lime juice and the tuna, it won't brown nearly as quick.  Just make sure it is covered.  Then you can mix it in with a greens salad, or serve it in some tortillas for a great twist on taco night!  There are quite a few possibilities with this recipe.
That being said, onto the tuna recipe!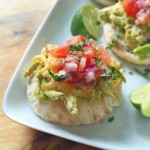 Spicy Mayoless Avocado Tuna Salad with Salsa
Ingredients
Tuna Mixture
2

cans of canned tuna

in water, drained

1

full ripe avocado mashed

2

cloves

of chopped garlic

The juice of 1/2 a lime

1

teaspoon

of your favorite hot sauce

1

Tablespoon

of olive oil

Salt and pepper to taste
Salsa
3 1/4

" dice Roma tomatoes

ripe

1/4

cup

of 1/4" diced red onion

The juice of 1/2 a lime

1

Tablespoon

of olive oil

1

teaspoon

of your favorite hot sauce

2

Tablespoons

of freshly chopped cilantro

1

cup

of grated cheddar

mini pitas

bread or rice cakes for the base
Instructions
Mash together the avocado with all of the ingredients except the tuna. Mix together well until combined and the consistency of a guacamole. Fold in the drained tuna and check for seasoning. Set aside

Combine all of the salsa ingredients together and again check for seasoning. Set aside

Build open face sandwiches with the tuna mixture on whatever base you like and top with the grated cheese. Broil in your oven for just 2-3 minutes until just browned. Top with the salsa and serve.
This is meant to be a tuna recipe that takes a boring old tuna sandwich on white bread with pickles and add a lot of flavor and color.  This is also a really inexpensive meal but is also really healthy.  A lot of times people think that eating well has to come at a price, whether it be protein options, or organic produce.  All of my ingredients for this recipe cost less than 15 bucks, which if served 3 people, means that it would only cost $5 to create this healthy lunch or dinner.  That's a lot better than what you can buy at a fast food place, and your body will be happy you ate this and not a burger and fries.
Consider pairing this recipe with my low oxalate coleslaw recipe!
I hope you have enjoyed this simple tuna recipe, and if you have I would love to hear your comments about it below!
You may also like :